Sasaram Parliamentary Constituency 2019, Sasaram Lok Sabha Constituency Details, Political News Sasaram, Bihar Lok Sabha Elections 2019 News Updates, Bihar Parliamentary Constituency details 2019, Sasaram MP, Issues Political Analysis 2019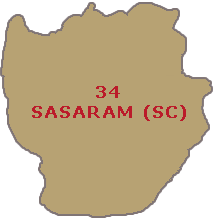 About the Constituency:
Sasaram is one of the 40 Parliamentary constituencies of Bihar. According to Election Commission of India 2009 data the total electorates in the Sasaram Parliamentary constituency (constituency number 34) were 1,402,789 of which 652,146 are females and 750,643 are males. It is reserved for candidates belonging to the Scheduled Castes. This constituency thus holds national importance so far as politics is concerned. Being a part of the Patna Division, the Rohtas District is economically backward, and thus funded under the Backward Regions Grant Fund Programme.
Assembly Segments:
Out of the six assembly segments which comprise the Parliamentary constituency of Sasaram, Mohania and Chenari are reserved for candidates belonging to the Scheduled Castes.
Names of Assembly Constituencies

Mohania (SC)

Bhabua

Chainpur

Chenari (SC)

Sasaram

Kargahar
Significant Political Background:
Situated in the Rohtas District in the southwestern parts of Bihar, Sasaram is one of Bihar's politically historic seats. Babu Jagjivan Ram, who was a Deputy Prime Minister of India and a strong proponent of the causes of the marginalized sections of the society, represented this constituency. Ram, who was himself from the Chamars, an extremely depressed community, won the seat for a remarkable eight times in a row. Meira Kumar, the first woman Speaker to the Indian Parliament, was also elected from here. The daughter of Jagjivan Ram, she has represented the Sasaram Parliamentary constituency consecutively in the 2004 and the 2009 Lok Sabha sessions.
Present Political Scenario:
Candidates in the fray
BJP
As expected, BJP has given ticket to Chhedi Paswan, who recently resigned as JDU MLA and has considerable clout here.

JDU
JDU is going to field retired IAS officer, K.P. Ramaiah from here.

Why it will be difficult for Meira Kumar this time?
Lok Sabha speaker, Meira Kumar has been winning this seat for the last two elections, but may find it difficult in a 3 cornered fight.
BJP may fancy its chances in Kargahar and Chainpur assembly segments and its NDA partner, LJP has strength in Bhabua assembly segment, while Mohania assembly segment is Chhedi Paswan's stronghold. Thus with 4 out of 6 assembly segments may lean towards BJP, Meira Kumar may find herself in big trouble.