Karakat Parliamentary Constituency 2019, Karakat Lok Sabha Constituency Details, Political News Karakat, Bihar Lok Sabha Elections 2019 News Updates, Bihar Parliamentary Constituency details 2019, Karakat MP, Issues Political Analysis 2019: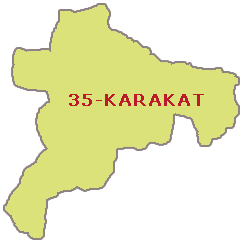 About the Constituency:
Formed in the year 2008, the Karakat Parliamentary constituency is one of the 40 Lok Sabha seats in the eastern Indian state of Bihar. The Karakat Parliamentary constituency (constituency number 35) has a total of 1,386,634 electorates out of which 638,177 are females and 748,457 are males according to Election Commission of India 2009 reports. It was previously under the geographic jurisdiction of the Bikramganj Parliamentary constituency, which was abolished in 2008.
Assembly Segments:
Six assembly segments form this constituency, out of which the three were part of the erstwhile Bikramganj Lok Sabha constituency, while two belonged to the Aurangabad Lok Sabha constituency, before the delimitation in 2008.
Names of Assembly Constituencies

Bikramganj

Dehri

Karakat

Goh

Obra

Nabinagar
About Karakat:
Karakat is situated within the Rohtas district, which is presently part of the Red Corridor, owing to frequent Naxalite-Maoist interference. As part of the Patna Division, the Rohtas district has the historic town of Sasaram as its headquarters. The Rohtas district, which was once a renowned industrial hub, has regressed economically, owing to high rate of crime and insurgency. The district is listed among the economically backward districts of the state, coming under the special purview of the Backward Regions Grant Fund Programme initiated by the Government of India.
A Look: Sitting MP
| | |
| --- | --- |
| Name of MP | Mahabali Singh |
| Age | 58 |
| Nature of Membership | Elected |
| Term | 18-May-09 to In office |
| Political Party | Janata Dal (United) |
| Gender | Male |
| Educational Qualification | Under Matric |
Performance in the 15th Lok Sabha:
| | |
| --- | --- |
| Debates participated | 18 |
| Private member bills passed | 0 |
| Questions asked | 162 |
| Attendance | 92% |