Gaya Parliamentary Constituency 2019, Gaya Lok Sabha Constituency Details, Political News Gaya, Bihar Lok Sabha Elections 2019 News Updates, Bihar Parliamentary Constituency details 2019, Gaya MP, Issues Political Analysis 2019: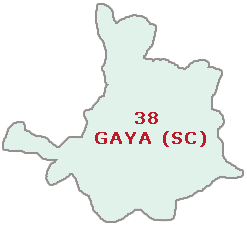 About the Constituency:
The parliamentary constituency of Gaya in the eastern Indian state of Bihar, known for its historical significance is reserved for candidates belonging to the scheduled castes. As one of the 40 Lok Sabha seats which represent the state, the Gaya parliamentary constituency falls under the geographic boundaries of the Gaya district. 1,329,192 is the total electorate count in the Gaya Lok Sabha Constituency (constituency number 38). Out of these 705,874 number of electorates are males and the remaining 623,318 are belong to the female category as the Election commission of India 2009 reports suggest.
Assembly Segments:
The assembly segments of Barachatti and Bodh Gaya, out of the six assembly segments which belong to this Lok Sabha seat, are reserved for candidates belonging to the scheduled castes.
Names of Assembly Constituencies

Sherghati

Barachatti (SC)

Bodh Gaya (SC)

Gaya Town

Belaganj

Wazirganj
About Gaya:
This district finds prominent mention in the Indian epics of Ramayana and Mahabharata. This constituency of Gaya is historically a significant region for Buddhists across the world, as Gautama Buddha and the religion he preached had strong links with this district.
Gaya has been enlisted as one of the 250 districts of the country which are economically dependent. The Backward Regions Grant Fund Programme of the Government of India is supplied to this district, for its economic privileges.
Demography:
The population of the Gaya district as per the 2011 Census is 43, 79,383.
A Look: Sitting MP
| | |
| --- | --- |
| Name of MP | Hari Manjhi |
| Age | 50 |
| Nature of Membership | Elected |
| Term | 18-May-09 to In office |
| Political Party | Bharatiya Janata Party |
| Gender | Male |
| Educational Qualification | Under Matric |
Performance in the 15th Lok Sabha:
| | |
| --- | --- |
| Debates participated | 17 |
| Private member bills passed | 0 |
| Questions asked | 123 |
| Attendance | 95% |