Kaliabor Assam Parliamentary Constituency 2019, Kaliabor Lok Sabha Constituency Details, Political News Kaliabor,Assam Lok Sabha Elections 2019 News Updates, Assam Parliamentary Constituency details 2019, Kaliabor MP, Issues Political Analysis 2019: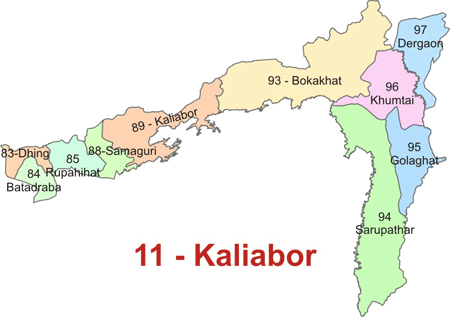 About the Constituency:
Kaliabor, being a Lok Sabha seat in the north-eastern state of Assam, is a politically prominent constituency of Assam. The total number of electorates in the Kaliabor Lok Sabha Constituency (constituency number 11) according to Election Commission of India 2009 reports are 1,348,371 of which 690,698 are males and 657,673 are females.
Assembly Segments:
The number of assembly constituencies that are an integral part of the Kaliabor parliamentary constituency is 10. The Dergaon segment, of these 10 constituencies, is reserved for candidates belonging to the scheduled caste candidates.
Names of Assembly Constituencies

Dhing

Batadraba

Rupohihat

Samaguri

Kaliabor

Sarupathar

Bokakhat

Golaghat

Khumtai

Dergaon (SC)
About Kaliabor:
It is home to the Brahmaputra river which surrounds it on the North, as well as the famous Kaziranga National Park which is situated on the East. In fact, the Kaliabor region is famously called the "Rice Bowl of Assam." The economy in the Kaliabor Parliamentary constituency is solely dependent on agriculture, as the state receives sufficient annual rainfall, ideal for the growth of any crop in the region. Besides, cottage industries and the handloom sector are an indispensable part of the Kaliabor constituency, providing employment and livelihood to lakhs of families in the region.
Demography:
The Nagaon district of which Kaliabor is a sub-division, has a population of 28,26,006 as per 2011 Census data, whereas Kaliabor is estimated to house around two lakh people.
Political Background:
Located in the Nagaon district of Assam, the Kalibor parliamentary constituency is extremely symbolic as the present Chief Minister of Assam, Tarun Gogoi has represented this constituency as a Member of Parliament in the years 1991, 1998 and 1999.
A Look: Sitting MP
| | |
| --- | --- |
| Name of MP | Dip Gogoi |
| Age | 62 |
| Nature of Membership | Elected |
| Term | 18-May-09 to In office |
| Political Party | Indian National Congress |
| Gender | Male |
| Educational Qualification | Graduate |
Performance in the 15th Lok Sabha:
| | |
| --- | --- |
| Debates participated | 0 |
| Private member bills passed | 0 |
| Questions asked | 0 |
| Attendance | 80% |