Jorhat Assam Parliamentary Constituency 2019, Jorhat Lok Sabha Constituency Details, Political News Jorhat,Assam Lok Sabha Elections 2019 News Updates, Assam Parliamentary Constituency details 2019, Jorhat MP, Issues Political Analysis 2019: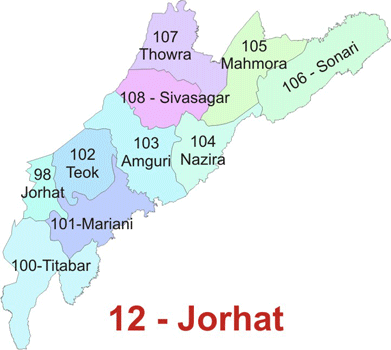 About the Constituency:
Jorhat parliamentary constituency, representing the Jorhat district in the north-eastern state of Assam is one of the 14 Lok Sabha constituencies of Assam. 1,182,349 is the total electorate count in the Jorhat Lok Sabha Constituency (constituency number 12). Out of these 605,285 number of electorates are males and the remaining 577,064 are belong to the female category as the Election commission of India 2009 reports suggest. Deriving its name from the 18th century usage to indicate two hats or mandis, Macharhat and Chowkihat, Jorhat is a crucial constituency in the state of Assam. It is located in the Jorhat District in the central-north regions of the state. The Jorhat Lok Sabha constituency is not only an entry point to the upper regions of Assam but also to the state of Nagaland.
Assembly Segments:
Names of Assembly Constituencies

Jorhat

Titabar

Mariani

Teok

Amguri

Nazira

Mahmora

Sonari

Thowra

Sibsagar
About Jorhat:
Jorhat is the second most important city in Assam, preceded closely by Guhawati. It was not only the last capital of the Ahom Kingdom, but houses some prominent historical monuments upto the present day. Together with Tinsukia and Dibrugarh, Jorhat is known for production of the famous Assam Tea, popular across the world. The economic backbone to the Jorhat Lok Sabha seat is provided not only by the tea gardens which adorn the region, but by innumerable small-scale and cottage industries such as furniture making, bamboo work, silver jewelry, packaged food manufacturing and various other economic activities.
Demography:
With a population of about 10,91,295 people, as per 2011 census data, Jorhat is the second most important city in Assam, preceded closely by Guhawati.
Present Political Scenario:
Congress Stronghold
This is an out and out Congress stronghold represented by former union minister, B.K. Handique, who has never lost the seat in close to three decades.
A troublemaker
BJP has once again fielded the young and dynamic, Kamakhya Prasad Tasa, of the Tea tribe community who had given sleepless nights to Congress strongman in the 2009 polls.