Dibrugarh Assam Parliamentary Constituency 2019, Dibrugarh Lok Sabha Constituency Details, Political News Dibrugarh,Assam Lok Sabha Elections 2019 News Updates, Assam Parliamentary Constituency details 2019, Dibrugarh MP, Issues Political Analysis 2019: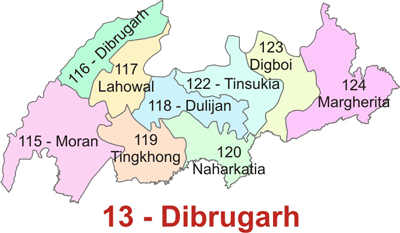 About the Constituency:
Known as the 'Tea City of India', the city of Dibrugarh is part of the Dibrugarh parliamentary constituency. This Lok Sabha seat, like the remaining 13 seats that belong to the state of Assam, represents Assam in the Lower House of the Parliament. According to Election Commission of India 2009 data the total electorates in the Dibrugarh Parliamentary constituency (constituency number 13) were 1,114,965 of which 540,628 are females and 574,337 are males. Located in the Dibrugarh district on the banks of the Brahmaputra River, this parliamentary constituency is one of the most renowned regions in this north-eastern state, owing to its famous tea-producing belt.
Assembly Segments:
Nine assembly segments make up the Dibrugarh parliamentary constituency.
Names of Assembly Constituencies

Moran

Dibrugarh

Lahowal

Duliajan

Tingkhong

Naharkatia

Tinsukia

Digboi

Margherita
About Dibrugarh:
Dibrugarh is considered the economic hub not only for the state of Assam, but in the entire north-eastern part of India. Besides tea production, other sectors of the economy which add to the affluence of the district are tourism, oil and natural gas, and the fertilizer industry, along with superior quality production of wood, bamboo, and the cottage industries.
Demography:
According to the 2011 Census, the population in the Dibrugarh district is as high as 13,27,748 and is one of the essential urban centres in the state.
Present Political Scenario:
Difficult Seat for BJP:
The only hope for BJP is a possible Modi wave and the distant possibility of a tie up with AGP