Maharajganj Uttar Pradesh Parliamentary Constituency 2014, Maharajganj Lok sabha Constituency Details, Political News Maharajganj, Uttar Pradesh Lok Sabha Elections 2014 News Updates, Uttar Pradesh Parliamentary Constituency details 2014, Maharajganj MP, Issues Political Analysis 2014: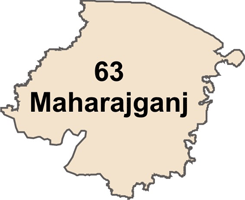 About the Constituency:
One of the 80 parliamentary constituencies of the state of Uttar Pradesh, Maharajganj came into existence in 1952. The Maharajganj Lok Sabha Constituency (constituency number 63) consists of 1,509,167 number of electorates in totality, of these 811,525 are males and 697,642 are females as the Election commission of India 2009 data suggests.
Assembly Segments:
It comprises of five segments of which one belongs to the SC category
Names of Assembly Constituencies

Pharenda

Nautanwa

Siswa

Maharajganj (SC)

Paniyara
About Maharaganj:
Bordered by the country of Nepal on the North and the Gorakhpur District on the South, the district of Maharajganj is a part of the Gorakhpur Division and has four tehsils. Created in 1989, it has a total area of 2,952 sq km. The district is one of the country's 250 most backward districts and the Backward Regions Grant Fund Programme provides financial aid. The National Highway NH-29 and the State Highway SH-81 pass through the district.
Demography:
As per 2011 census data, it has a total population of 2,684,703 of which 51% comprises of males and 49% comprises of females. From 2001 to 2011, the population growth rate was 23.50% and the population density of the area is 909 sq km. Children below the age of six comprise of about 16% of the population and the sex ratio is 943 females per 1000 males. The average literacy rate of Maharajganj is 62.76% with male and female literacy rates at 75.85% and 48.92%.
Present Political Scenario:
Congress Presence
This is the rare eastern-UP seat that Congress had won in 2009.

X factor
BJP has nominated Pankaj Chaudhary once again – he is a 4 time MP from here. The sitting Congress MP has been a big under-performer.
Recent recruits R.K. Misra and Prem Sagar Patel (formerly BSP) who were expecting an MP ticket from here could create some problems for Pankaj Chaudhary, but it is still quite difficult to see BJP losing this seat.