Anantapur Andhra Pradesh Parliamentary Constituency 2019, Anantapur Lok Sabha Constituency Details, Political News Anantapur, Andhra Pradesh Lok Sabha Elections 2019 News Updates, Andhra Pradesh Parliamentary Constituency details 2019, Anantapur MP, Issues Political Analysis 2019: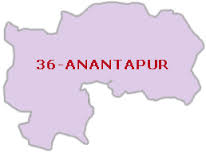 About the Constituency:
Belonging to the Anantapur district is the parliamentary constituency of Anantapur in the state of Andhra Pradesh. It is one of the 42 seats which belong to this southern Indian state. According to Election Commission of India 2009 data the total electorates in the Anantapur Parliamentary constituency (constituency number 26) were 1,173,138 of which 605,817 are females and 567,321 are males.
Historic and Demogrpahic Background:
The Anantapur district, now known as the Anantapuram district, is part of the Red Corridor, due to frequent victimisation at the hands of the Red Rebels. The district headquarters lie in the city of Anantapur in this eponymous district. According to the Census of India of 2011, this district of Anantapur has a total population of 4,083,315. This is an economically backward region, as the Maoists have hindered all prospects of economic stability and growth in this constituency. Although primarily an agrarian economy with miniscule number of industries, this district is one of the 13 districts in Andhra Pradesh which are under the Backward Regions Grant Fund Programme.
Assembly Segments:
Names of Assembly Constituencies/th>

Rayadurg

Uravakonda

Guntakal

Tadpatri

Singanamala (SC)

Anantapur Urban

Kalyandurg
Political Significance:
A Congress stronghold, Anantapur comprises seven legislative assembly constituencies, out of which Singanamala is reserved for SC candidates.
A look: Sitting MP
| | |
| --- | --- |
| Name of MP | Anantha Venkatarami Reddy |
| Age | 57 |
| Nature of Membership | Elected |
| Term | 18-May-09 to In office |
| Political Party | Indian National Congress |
| Gender | Male |
| Educational Qualification | Post Graduate |
Performance in the 15th Lok Sabha:
| | |
| --- | --- |
| Debates participated | 14 |
| Private member bills passed | 0 |
| Questions asked | 551 |
| Attendance | 74% |