Assembly Election Opinion/Exit Poll, Survey Result, Who will win in Assembly Elections 2016
Details

Category: Opinion Poll
Last Updated:

Thursday, 22 January 2015 20:53
CNN-IBN and India's premier institute CSDS-Lokniti conducted a comprehensive survey in 18 big and medium sized states across India in the first two weeks of January to gauge the mood among the voters.

When we asked an open ended question on their choice for the post of PM, over 34 per cent have answered that they prefer Narendra Modi. He has widened the lead over Rahul Gandhi who has got the backing mere 15 per cent respondents.

Congress President Sonia Gandhi has got 5 per cent, Arvind Kejriwal of AAP has got 3 per cent, current PM Manmohan Singh 3 per cent, Mayawati 2 per cent, Mulayam Singh Yadav 2 per cent, Nitish Kumar and LK Advani 1 per cent each, others have got 8 per cent backing respectively. However a large number of voters (27 per cent) have expressed no opinion on their preferred choice of the PM.

Community wise support for the PM post
Narendra Modi has got 48 per cent backing among the upper castes while Rahul Gandhi has got just 11 per cent support in the same group. Modi, who himself hails from the OBC community commands 39 per cent support among the OBCs as against 12 per cent for Rahul Gandhi.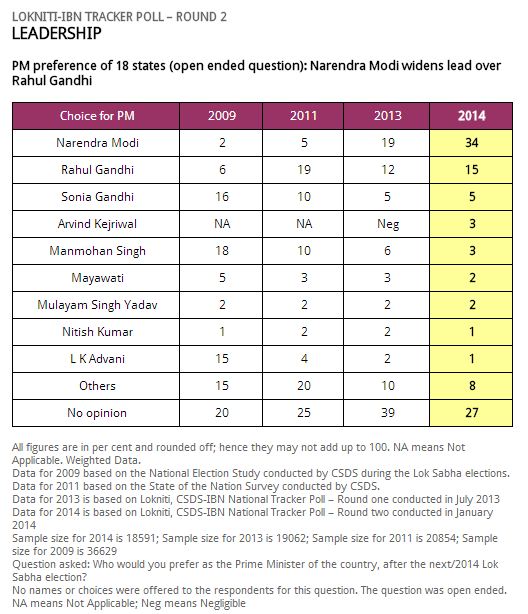 Surprisingly, Modi is more popular even among the Dalits as 24 per cent voters from the community are backing him as against 16 per cent for Rahul Gandhi. Modi maintains his lead even among the STs. He has got 31 per cent support as against 22 per cent for Rahul Gandhi.
Among the Muslims 11 per cent back Narendra Modi and 31 per cent back Rahul Gandhi.
Even in a direct face off, the gap between Modi and Rahul is no longer narrow as 42 per cent back the former while the Congress MP has the backing of 25 per cent. Only 5 per cent back both.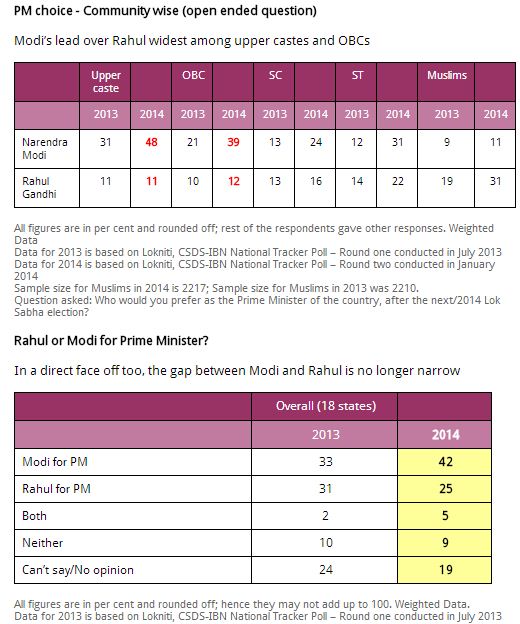 Interestingly, not many voters wanted the Congress to project Rahul Gandhi as the PM candidate when survey was conducted in early January. Overall 38 per cent did not want the Congress to project Rahul Gandhi as its PM candidate. In the age group of 18-35, 39 per cent voters did not want the Congress to nominate him for the top post.

In contrast, there is high support for BJP projecting Narendra Modi as its PM candidate. Overall he has got 49 per cent support. It is very high (59 per cent) in the Hindi speaking states and among youth. However, Modi has a low support in South India. In the South, only 31 per cent feel that naming Modi was the right thing.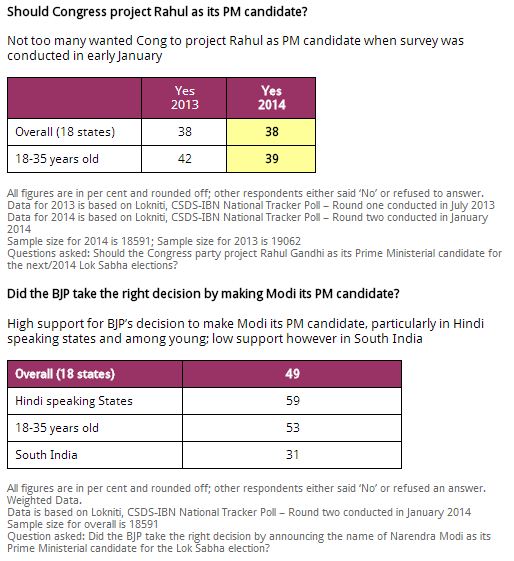 If Modi fails, most prefer Advani:
Most prefer BJP patriarch LK Advani to be the PM, if the party is in a position to form the government, but Modi is not acceptable to the new allies. Overall 17 per cent prefer Advani and among the BJP backers 22 per cent prefer Advani in such a scenario. Leader of Opposition in the Lok Sabha Sushma Swaraj comes second with overall 11 per cent and among the BJP backers 13 per cent support. Arun Jaitley has got just 2 per cent support.
To a question - what do you like about Modi and Rahul the most, 13 per cent have answered that Modi is honest and 25 per cent answer that Rahul is a young leader.
Kejriwal most preferred in the event of a non-BJP, non-Congress government
AAP founder and Delhi Chief Minister Arvind Kejriwal is the most preferred choice with 9 per cent backing him. NCP chief Sharad Pawar comes second with just 3 per cent backing. An overwhelming number of 61 per cent say that they have no choice.
Party over personality
Most voters still prefer party over personality while voting. Overall 41 per cent respondents have answered that they go by party while voting and 23 per cent say they go by local candidates. Only 28 per cent people say, they go by PM candidate of a party.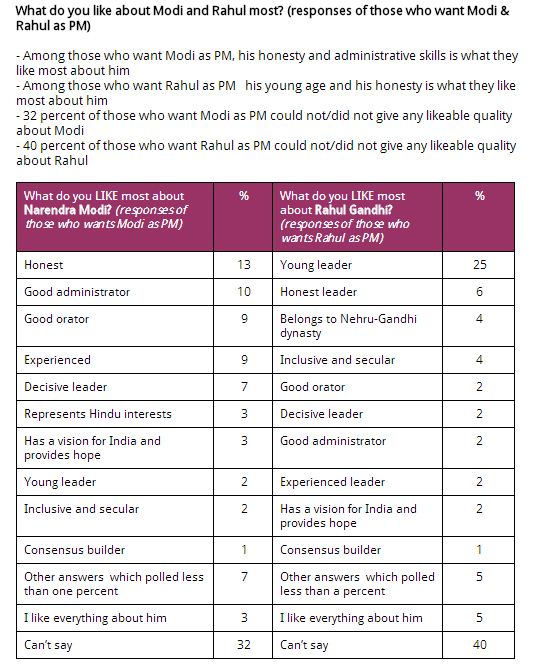 Source: Election Tracker, CNN-IBN