Highlights for Day 64 of Narendra Modi government Development Work
---
Click here to see Narendra Modi 100 Days Agenda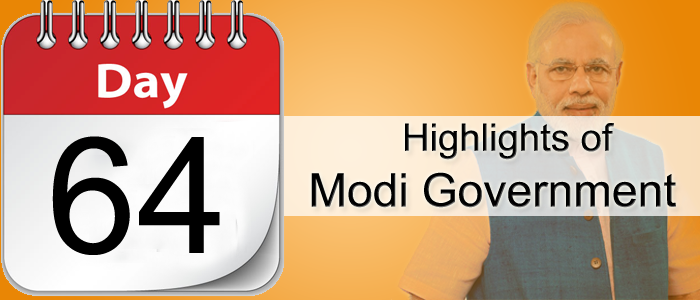 US Secretary of State John Kerry sounded very upbeat about his India visit when he extended Washington's support to the Narendra Modi government's vision of "Sabka Saath, Sabka Vikas" (Collective Efforts, Inclusive Development). Kerry is scheduled to co-chair the fifth annual India-US Strategic Dialogue on July 31 along with External Affairs Minister Sushma Swaraj. He said he would be "emphasising the opportunities" in which the US and India can become indispensable partners,when he holds talks with the Modi government.

Maharashtra Chief Minister Prithviraj Chavan has described Narendra Modi's style of governance as very "autocratic". He cited the recent win of the Congress in Uttarakhand bye polls as the indication that people are "already disillusioned" with the Modi government. He said that Modi's ministers and even his inner core team do not enjoy any autonomy.

Rashtriya Janata Dal President Lalu Prasad's son Tejaswi Yadavhas lent support to the agitation against the Civil Services Aptitude Test (CSAT), and haswritten a letter to Prime Minister Narendra Modi, urging him to order review of the CSAT pattern.

Led by BJP vice president Surinder Singh Ahluwalia,a three-member team of BJP MPs visited the villages allegedly affected by Left parties' terror. Ahluwalia warned the ruling CPI-M in Tripura that the NDA government at the Centre would not watch silently ifthe wave of terror against BJP workers is not stopped.

Speaking at the 86th Foundation Day and Award Ceremony of the Indian Council of Agricultural Research (ICAR), Prime Minister Narendra Modi emphasised on the need to reach out to farmers andensure maximum benefit to them. The Prime Minister also spoke about the need to ensure scientific management of water cycle, keeping in mind the changes in weather cycle.

Union Finance and Defence Minister Arun Jaitley met BJP office-bearers in the wake of Prime Minister Narendra Modi's directions to ensure better coordination between the government and the party. Modi has directed BJPoffice bearers to hold discussions with Jaitley at least once in a week. Also, each BJP minister will visit the party office once in a month to ensure better governance. He or she will listen to party cadres as well as supporters and address their genuine concerns.

Greeting the people on the occasion of Eid-ul-Fitr, which marks the culmination of the month-long fast, Prime Minister Narendra Modi expressedthe hope that the festival would strengthen the bond of peace, unity and brotherhood in the country.
source:elections.in