Highlights for Day 46 of Narendra Modi government Development Work
---
Click here to see Narendra Modi 100 Days Agenda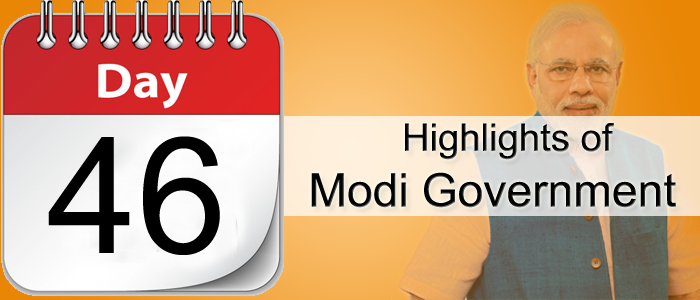 PM Modi can choose his staff: Jaitley on Nripendra Misra's appointment
Finance Minister Arun Jaitley on Friday slammed the opposition parties for their remarks over the appointment of Nripendra Mishra saying Prime Minister Narendra Modi has the right to choose his staff. The BJP and the Congress are set for a face-off over the appointment of the Prime Minister's Principal Secretary Nripendra Misra. "The Prime Minister has right to choose his staff. This is sheer politics by the opposition and the Congress. Just because they are upset over the leader of opposition post in the Lok Sabha and Income Tax notice, they are doing this," said Jaitley. He added, "When we chose Nripendra Misra, we realised that he has been the memeber of TRAI regulator. The rule book says that once the Regulator is out of the regulation, he cannot be employed as an government official for at least two years. But this law says that the regulator cannot ever be an government official. We wanted the TRAI bill to be fair. The Prime Minister feels that if he wants to hire a former regulator, this law should be in parity with other laws. All government laws regarding regulators must have parity." Within two days of coming to power, the Modi government brought an ordinance to change the rules of the Telecom Regulatory Authority of India which barred its chairman from taking up any future appointments. This paved the way for Mishra's appointment
But the ordinance will have to be validated by Parliament. The government will introduce the amendment to TRAI rules in Lok sabha on Monday and the Congress was ready with its attack.

Decision on government formation in capital soon: Delhi BJP chief
Tasked to strengthen the party, newly-appointed Delhi BJP President Satish Upadhyay on Sunday said a final decision on whether to attempt a shot at government formation or seek fresh mandate in the capital will be taken "soon" after eliciting the opinion of MLAs, MPs and senior leaders.
52-year-old Upadhyay, known to be close to RSS, said the party was "confident" of getting "sizable" number of seats in case of fresh elections and referred to BJP coming first in 60 of the 70 assembly segments in the Lok Sabha polls. "A decision on whether to go for fresh polls or try to form a government will be taken by senior leaders of the party after taking views of the MLAs and MPs. It will be a policy decision which will be taken as soon as possible," Upadhyay said.
A significant number of party MLAs has already apprised the leadership about their unwillingness to face fresh polls and has been favouring taking a shot at government formation while some of the senior leaders were opposed to it. The BJP had won 31 seats in the assembly polls in December 2013 but its number came down to 28 in the 70-member house after three of its legislators Harsh Vardhan, Ramesh Bidhuri and Pervesh Verma were elected to Lok Sabha. President's rule was imposed in Delhi on February 17 after AAP government resigned.
Treat juveniles accused of rape on par with adults: Maneka Gandhi
Minister for Women and Child Development Maneka Gandhi on Sunday favoured treating juveniles accused of heinous crimes like rape on par with adult offenders. Speaking to reporters, she said according to the police, 50 per cent of all sexual crimes were committed by "16-year-olds who know the Juvenile Justice Act so they can do it." "But now for premeditated murder, rape, if we bring them into the purview of the adult world, then it will scare them," she said. Former WCD Minister Krishna Tirath during the previous UPA regime had proposed that juveniles above 16 years guilty of heinous crimes be treated on par with adult offenders. The move was however opposed by various NGOs and National Commission of Protection of Child Rights which stated that such a proposal was against child rights.
--Written By Aadil Mir--