Vijayawada Andhra Pradesh Parliamentary Constituency 2019, Vijayawada Lok Sabha Constituency Details, Political News Vijayawada,
Andhra Pradesh
Lok Sabha Elections 2019 News Updates,
Andhra Pradesh
Parliamentary Constituency details 2019, Vijayawada MP, Issues Political Analysis 2019: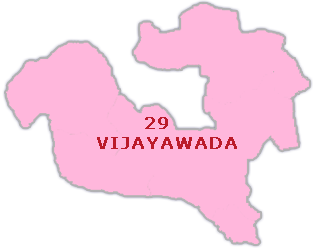 Historical Significance:
This constituency houses the Vijayawada city, one of the most successful commercial centres of Andhra Pradesh. This city of Vijayawada, which is the third-largest city of Andhra Pradesh, is politically important in the national scenario. With a metropolitan population of 1,048,240, as per the 2011 Census of India, Vijayawada is industrially renowned and agriculturally rich. Both these sectors form the backbone of the economy in the Vijayawada constituency. Historically known as Bewazada, this city is fed by the Krishna River, and grows the best quality of sugarcane, rice and mango. Besides other medium- and small-scale industries, the largest hub of the automobile industry of Asia, the Jawahar Lal Nehru Auto Nagar Industrial Estate, is located in Vijayawada.
About the Constituency:
The Vijayawada parliamentary constituency is one of the 42 Lok Sabha seats which represent this constituency in the state of Andhra Pradesh. 1,402,315 is the total electorate count in the Vijayawada Lok Sabha Constituency (constituency number 30). Out of these 693,391 number of electorates are males and the remaining 708,924 are belong to the female category as the Election commission of India 2009 reports suggest.
Political Background:
A strong Congress presence:
This Congress stronghold of the state comprises seven assembly segments, which were formed after the 2008 orders of the Delimitation Commission of India. Out of the seven Vidhan Sabha seats, the segments of Tiruvuru and Nandigama are reserved for SC candidates
A LOOK: sitting MP and his track record:
| | |
| --- | --- |
| Name of MP | Rajagopal Lagadapati |
| Age | 49 |
| Nature of Membership | Elected |
| | |
| Term | 18-May-09 to In office |
| Political Party | Indian National Congress |
| Gender | Male |
| Educational Qualification | Graduate |
Performance in the 15th Lok Sabha:
| | |
| --- | --- |
| Debates participated | 21 |
| Private member bills passed | 12 |
| Questions asked | 538 |
| Attendance | 70% |