Nagarkurnool Andhra Pradesh Parliamentary Constituency 2019, Nagarkurnool Lok Sabha Constituency Details, Political News Nagarkurnool,
Andhra Pradesh
Lok Sabha Elections 2019 News Updates,
Andhra Pradesh
Parliamentary Constituency details 2019, Nagarkurnool MP, Issues Political Analysis 2019: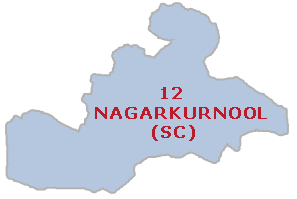 Historical Background:
The Nagarkurnool constituency is located within the geography of the Mahbubnagar District, formerly known as Palamooru. This district, which falls in the Rayalseema region of Andhra Pradesh, is the second-largest district in Andhra Pradesh, with a total area of 18,432 sq km. This place has a massive tourist appeal. Places such as Alampur, Jataprole, Maddimadugu, Kollapur and Gangapur are famous for some of the historic ancient temples like Jogulaamba Temple and others, dargahs and churches. Nagarkurnool is one of the largest towns in the constituency. Economically, this district has been recognized as one of the backward regions, being sustained by the Backward Regions Grant Fund Programme.
About the Constituency:
The Nagarkurnool Lok Sabha seat is one of the 42 Parliamentary constituencies which belong to the state of Andhra Pradesh. The Nagarkurnool Parliamentary constituency (constituency number 12) has a total of 1,460,484 electorates out of which 736,878 are females and 723,606 are males according to Election Commission of India 2009 reports. Reserved for SC candidates, this Lok Sabha constituency contains seven Vidhan Sabha constituencies, of which Alampur and Achampet are reserved for the marginalized sections of the society.
A LOOK: sitting MP and his track record:
| | |
| --- | --- |
| Name of MP | M. Jagannath |
| Age | 62 |
| Nature of Membership | Elected |
| Term | 18-May-09 to In office |
| Political Party | Indian National Congress |
| Gender | Male |
| Educational Qualification | Post Graduate |
Performance in the 15th Lok Sabha:
| | |
| --- | --- |
| Debates participated | 34 |
| Private member bills passed | 0 |
| Questions asked | 277 |
| Attendance | 79% |