Nalgonda Andhra Pradesh Parliamentary Constituency 2019, Nalgonda Lok Sabha Constituency Details, Political News Nalgonda,Andhra PradeshLok Sabha Elections 2019 News Updates,Andhra PradeshParliamentary Constituency details 2019, Nalgonda MP, Issues Political Analysis 2019: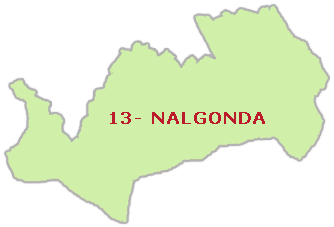 Historical Significance:
Nagarjuna Sagar, the world's largest masonry dam and one of the country's most famous tourist attractions, is also situated in this constituency. The famous ancient temple site of Arrur Village is located in this Lok Sabha constituency
About the Constituency:
Located in the Nalgonda District of north-central Andhra Pradesh, the historically relevant region of the Nalgonda Parliamentary constituency is one of the 42 Lok Sabha constituencies in the state. The Nalgonda Lok Sabha Constituency (constituency number 13) consists of 1,455,016 number of electorates in totality, of these 720,289 are males and 734,727 are females as the Election commission of India 2009 data suggests. According to the 2001 census, this parliamentary constituency has a population of 110,651. The size and structure of the Nalgonda Parliamentary constituency is outlined in Section 4 of the Representation of the People Act, 1950
Political Background:
Strong- hold of Communist Party of India (CPI),which won for a majority of the terms.
The Nalgonda District has a rebellious history of participating in the Telangana Movement and witnessing one of the fiercest struggles of this period.
Prominent leaders:
As part of the Red Corridor, the Nalgonda district has some of its most famous leaders such as Bheemireddy Narasimha Reddy, Raavi Narayana Reddy, and women such as Mallu Swarajyam, who sacrificed their lives opposing feudal serfdom.
Special Privileges:
This district has been recognized as one of the 250 economically backward districts in the country, although some major projects such as the Nagarjuna Sagar Irrigation Project and the Alimeneti Madhava Reddy Project, thrive here. It is being funded under the Backward Regions Grant Fund Programme.
A LOOK: sitting MP and his track record:
| | |
| --- | --- |
| Name of MP | Sukender Reddy Gutha |
| Age | 59 |
| Nature of Membership | Elected |
| Term | 18-May-09 to In office |
| Political Party | Indian National Congress |
| Gender | Male |
| Educational Qualification | Graduate |
Performance in the 15th Lok Sabha:
| | |
| --- | --- |
| Debates participated | 11 |
| Private member bills passed | 0 |
| Questions asked | 103 |
| Attendance | 66% |