Hyderabad Andhra Pradesh Parliamentary Constituency 2019, Hyderabad Lok Sabha Constituency Details, Political News Hyderabad,
Andhra Pradesh
Lok Sabha Elections 2019 News Updates,
Andhra Pradesh
Parliamentary Constituency details 2019, Hyderabad MP, Issues Political Analysis 2019: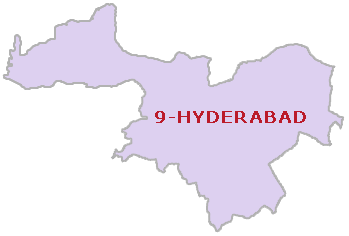 Historical Significance:
Hyderabad is known to be an educational and cultural hub of the state. Economically, the city of Hyderabad sustains on a prominent IT sector in the state. Known as the city of pearls, Hyderabad is famous for its pearls industry, besides others such as pharmaceuticals. Large-scale industries such as Bharat Electronics, Bharat Heavy Electricals Limited, Defence Research and Development Organisation, and many others are located in Hyderabad.
About the Constituency:
The Lok Sabha constituency of Hyderabad is one of the 42 Parliamentary seats in the southern Indian state of Andhra Pradesh. The total number of electorates in the Hyderabad Lok Sabha Constituency (constituency number 9) according to Election Commission of India 2009 reports are 1,393,242 of which 713,185 are males and 680,057 are females.
Demographic Background:
As Hyderabad city is the capital of the state, this constituency has immense political importance in the country. The city of Hyderabad, which is an integral part of this Lok Sabha constituency, is the largest city of the state, spanning over a metropolitan area measuring 650 sq km. With a population of 6,809,970, as per the 2011 Census of India
Political Background:
A bastion of All-India Majlis-e-Ittehadul Muslimeen Predominantly
The party heads the seat since 1989. This political outfit has a dominant presence in no other constituency of the state, except in this political nerve of Andhra Pradesh. Sultan Salahuddin Owaisi, A stalwart in Andhra Pradesh politics.
Seven legislative assembly segments constitute Hyderabad.
Names of Assembly Constituencies

Malakpet

Karwan

Goshamahal

Charminar

Yakutpura

Bahadurpura
A LOOK: sitting MP and his track record:
| | |
| --- | --- |
| Name of MP | Asaduddin Owaisi |
| Age | 44 |
| Nature of Membership | Elected |
| Term | 18-May-09 to In office |
| Political Party | All India Majlis-E-Ittehadul Muslimmen |
| Gender | Male |
| Educational Qualification | Graduate |
Performance in the 15th Lok Sabha:
| | |
| --- | --- |
| Debates participated | 40 |
| Private member bills passed | 1 |
| Questions asked | 1080 |
| Attendance | 70% |