Adilabad Andhra Pradesh Parliamentary Constituency 2019, Adilabad Lok Sabha Constituency Details, Political News Adilabad,
Andhra Pradesh
Lok Sabha Elections 2019 News Updates,
Andhra Pradesh
Parliamentary Constituency details 2019, Adilabad MP, Issues Political Analysis 2019: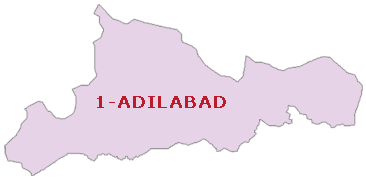 About the Constituency:
Reserved for candidates belonging to the Scheduled Tribes, the Adilabad Lok Sabha constituency is one of the 42 seats which belong to the southern Indian state of Andhra Pradesh. According to Election Commission of India 2009 data the total electorates in the Adilabad Parliamentary constituency (constituency number 1) were 1,131,211 of which 577,935 are females and 553,276 are males. It is situated within the geographic boundaries of the district of Adilabad, the second-largest district in the Telangana region of Andhra Pradesh.
Demographic and Political Background:
With a population of 2,488,003, as per the 2011 Census records, the Adilabad district has the eponymous city of Adilabad as its administrative headquarters. With Maoists infecting this region with the frequent insurgency, the Adilabad district is part of the Red Corridor in the country. The presence of the Red Rebels has hindered economic growth in this district, making Adilabad receive government aid under the Backward Regions Grant Fund Programme.
Assembly Segments which falls under the Constituency:
Names of Assembly Constituencies

Sirpur

Asifabad (ST)

Khanapur (ST)

Adilabad

Both (ST)

Nirmal

Mudhole
Predominantly a TDP Bastion:
A vote-bank of the regional political outfit called the Telugu Desam Party, this constituency of Adilabad comprises seven assembly segments, out of which Booth, Khanapur and Asifabad are reserved for ST candidates.
Unknown facts about the sitting MP:
| | |
| --- | --- |
| Name of MP | Ramesh Rathod |
| Age | 47 |
| Nature of Membership | Elected |
| Term | 18-May-09 to In office |
| Political Party | Telugu Desam Party |
| Gender | Male |
| Educational Qualification | Graduate |
Track Record in the 15th Lok Sabha

Debates participated

10

Private member bills passed

0

Questions asked

290

Attendance

51%