Opposed Sonia as PM over sensibilities: Sushma Swaraj.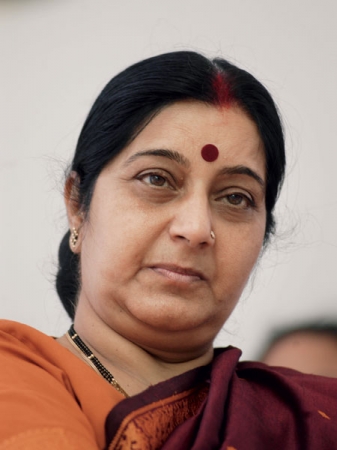 New Delhi: BJP leader Sushma Swaraj Thursday said she opposed Sonia Gandhi's prime ministerial candidature in 2004 as it hurt her "sensibilities" that a foreigner would lead the country.
"It hurt my sensibilities as even after culmination of British rule and the sacrifices made by fellow Indians, no (native) was there at that time to lead the country and a foreigner was being chosen," the Bharatiya Janata Party leader said. She was speaking at a book release function here.
Sushma Swaraj had in 2004 famously said she would tonsure her head if Gandhi became the prime minister. Despite the Congress party pushing for her candidature, Gandhi stepped aside in favour of Manmohan Singh as the prime minister.
Swaraj said, "I thank her (Gandhi) for honouring the sentiments of the people (for refusing the post)." Her comments came after Congress leader Digvijaya Singh, also present at the function, remarked he still did not know why she (Swaraj) had threatened to shave her head.
Swaraj said she fought the Lok Sabha elections against Gandhi from Bellary in Karnataka in 1999 because of her foreign origin. "I lost the battle but won the war." 'Pandora's Daughters' by senior journalist Kalyani Shankar, a book on eight powerful women politicians, was released on the occasion.
It lists Gandhi and Swaraj among the top women politicians in India. Others covered in the book are J. Jayalalithaa, Mayawati, Sheila Dikshit, Pratibha Patil, Mahbuba Mufti and Mamata Banerjee.
source:ibnlive