Assembly poll: Empowerment of farmers, tribals and women will develop Jharkhand Says Rahul Gandhi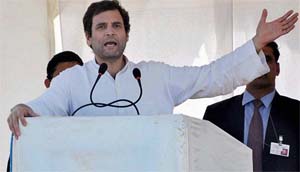 Shikaripara (Jharkhand): Congress party vice president Rahul Gandhi Taking a dig at Prime Minister Narendra Modi on his 'achhe din' slogan during his election rally in Jharkhand Shikaripara on Wednesday and said that farmers, tribals and women of Jharkhand must be empowered for the state to develop, adding that he and Prime Minister Narendra Modi had a difference of opinion over what method was best to take the state forward.He also added "
When such good days will come and questioned why he never talks about empowerment of women and farmers, ".
"There is a difference in the way I think and the way the Prime Minister thinks. He feels that he can develop Jharkhand while sitting in New Delhi, I do not agree with this. I want to empower farmers, tribals and women of Jharkhand to strengthen the state," Rahul told mediapersons after addressing a rally here.
"Unless we give rights to people and empower them, a state like Jharkhand cannot move forward," he added. Addressing a rally here earlier, the Gandhi scion accused the ruling government at the Centre of being pro-industrialist. "They only want to work for a few industrialists because they are the ones who fund their campaigns," he said.
Mr Gandhi promised, if voted to power, the Congress would increase the 81-member Jharkhand Assembly to 140 seats.Shikaripara and Godda constituencies are among the 16 going to polls in the fifth and final phase on December 20.
The final phase of the five-phased assembly elections in Jharkhand will take place on December 20, with the counting of the votes scheduled to take place on December 23.