Details

Category: J&K News
Last Updated:

Thursday, 22 January 2015 20:47
Live: BJP says Antony must apologise for LoC killings statement, BJP, Cong, LoC Killing, Latest News, latest and political news, political news, latest and breaking news.
New Delhi/Jammu: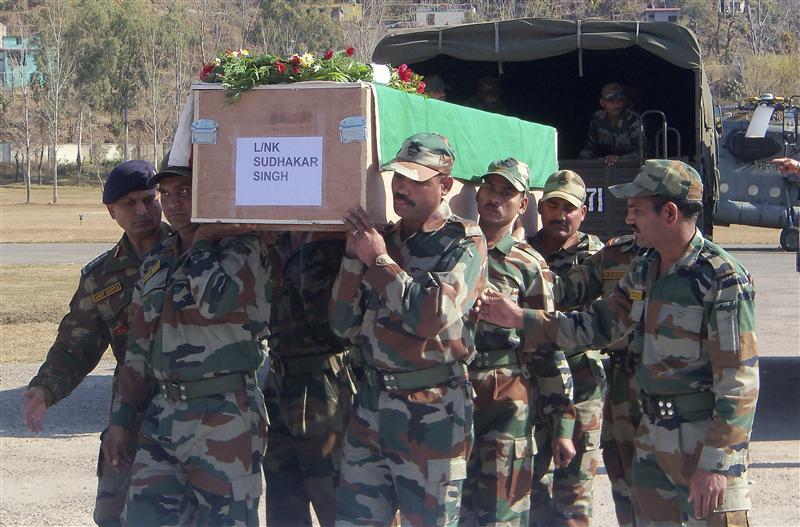 11:14 am: The Lok Sabha was adjourned till 12 while the Rajya Sabha was adjourned for 15 minutes following uproar over AK Antony's statement on the LoC killings. The BJP demanded an apology from Antony. "Who is the defence minister to give a clean chit to the Pakistani Army when the defence ministry is not in its press release," said BJP leader Sushma Swaraj.
11:04 am: The BJP took on the government in Parliament over Defence Minister AK Antony's statement on the LoC killings. "Yesterday Antony made a statement in Parliament. It has come to our notice, two contradictory statements were made," BJP leader Venkaiah Nadu said. The Defence Minister in his statement had contradicted the position taken by the Army on the killings, following which the Army also changed its statement.
10:50 am: Leader of Opposition Sushma Swaraj has given a suspension of Question Hour notice in the Lok Sabha over Defence Minister AK Antony's statement in Parliament on soldier killings on Tuesday. In Rajya Sabha, the notice has been given by BJP leader Ravi Shankar Prasad.
Live: BJP says Antony must apologise for LoC killings statement
AK Antony, in his statement had contradicted the position taken by the Army, following which the Army also changed its statement.
10:41 am:Sources now say that the government will consult other parties and may allow a discussion on the LoC killings in Lok Sabha. The Cabinet Committee on security will also meet on Thursday and the Army Chief and Defence Minister will brief the government.
10:13 am: Army Chief General Bikram Singh has reached Jammu to visit the site of the ambush in Poonch in which five Indian soldiers were killed by Pakistani troops. Meanwhile, Congress spokesperson PC Chacko said that talks with Pakistan will continue as these things can be solved through talks only.
"Talks should continue. When the BJP government was in power, did they not talk to Pakistan as in Agra and Lahore? Talks shouldn't break, talks, not war is a solution," Chacko said.
A day after the killings of five Indian Army soldiers in Poonch, the Congress has said that talks with Pakistan are still on, even as the government renews its diplomatic offensive. Congress spokesperson PC Chacko said the proposed meeting of Prime Ministers Manmohan Singh and Pakistan Prime Minister Nawaz Sharif will go ahead in September on the sidelines of the UN General Assembly.
Talking to reporters against the backdrop of the killing of five Indian Army jawans by alleged Pakistani troops in Jammu and Kashmir, Congress spokesman PC Chacko said that all issues between the two countries could only be solved across the talks table. "It is not through war that we are going to solve the problems, but through discussion and dialogue. "So, the Indian PM and Pakistan PM (Nawaz Sharif) will be meeting (in New York)," Chacko said.
This came even as the Pakistan Deputy High Commissioner was summoned on Tuesday evening and sources say a strong message was delivered to Pakistan. Indian Army sources have said the attack was carried out by Pakistani terrorists, supported by the Pakistani Army. The DGMOs of the two armies are expected to hold talks.
Meanwhile in Parliament, a resolution against the attack is expected. There was anger, shock and outrage in Parliament on Tuesday as a clear message went out from the External Affairs Ministry to Pakistan.
Most of the parties, including BJP, SP, Left, JD(U), AGP and Shiv Sena, said the contention that the attack was carried out by terrorists amounted to providing an escape route to Pakistan which already has been claiming that its army is not involved. Defence Minister A K Antony made suo motu statements in both the Lok Sabha and the Rajya Sabha, saying the attack in Poonch sector of Jammu and Kashmir this morning was carried out by "terrorists along with persons dressed in Pakistan Army uniform".
This triggered angry reactions by political parties. Leader of the Opposition Arun Jaitley termed the statement as "ambiguous" and took a dig, saying that he hoped it was a "typographical error". Linking it to the Sharm-el-Sheikh episode of 2009 when the mention of Balochistan was found in India-Pakistan joint statement, the BJP leader said that by saying terrorists attacked "you are almost providing in this sentence an opportunity to Pakistan to say that they were non-state actors... It provides escape route to Pakistan, which always says not army but non-state actors" are behind such attacks.
BJP has suggested Prime Minister Manmohan Singh should not hold bilateral talks with his Pakistan counterpart Nawaz Sharif during his forthcoming visit to the US for United Nations General Assembly meeting. Strongly condemning the attack at the LoC, BJP leader Yashwant Sinha told reporters that "there should be no talks with Pakistan until they keep the assurance given to Atal Bihari Vajpayee on January 6, 2004. There should be no talks at any level, especially at the level of the Prime Minister."
BJP workers even held protests outside Defence Minister AK Antony's residence in the capital. The workers raised slogans demanding that a strong message be sent to Pakistan that such incidents will not be tolerated. Police used water cannons to disperse the demonstrators who tried to break barricades. Similar protests were also held in Agra and Kathua in Jammu and Kashmir.
"It is very sad that so many jawans lost their lives. It is a national loss. India cannot feel so helpless. The Central government is responsible for such a pathetic state of security," said Gujarat Chief Minister Narendra Modi.
source:http://ibnlive.in.com/news