Details

Category: Indian Politics
Last Updated on

Friday, 03 February 2017 18:31
President Pranab Mukherjee Hints At Sops For Poor In Union Budge
(A). President Pranab Mukherjee hailed the demonetisation move and the surgical strikes on terror launchpads across the LoC in his address to the joint sitting of Parliament on Tuesday. The President's speech also indicated that the government's third Budget to be presented on Wednesday and it be may provide more funds for schemes focusing on the poor, farmers and other vulnerable groups of society.
At the core of all my government's policies is the welfare of the garib, Dalit, peedit, shoshit, vanchit, kisan, shramik and yuva. My government is guided by the Antyodaya philosophy of Pandit Deendayal Upadhyaya. Financial inclusion is key to povert
(B).BJP engaged in a tough political battle in five states increased government spending would be a politically prudent move to assuage the poor and farmers who were hit by the demonetisation move.
"Strong decision on the behalf of the poor"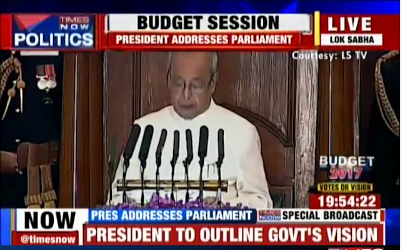 (C).Speaking on the surgical strikes across the LoC the President said it was a strong step to give a fitting reply to the repeated incursions on India's territorial sovereignty.
On September 29, 2016, our defence forces successfully conducted surgical strikes at several launch pads along the LoC to prevent infiltration by terrorists.
---
Fulfilled The Four-Decade-Old Demand Of One Rank One Pension
---
1. The President said India has been widely acclaimed as a bright spot in the global economy at a time when the global growth has been slow. He added that inflation, balance of payments, current account deficit and fiscal deficit had consistently reduced since 2014.
2. He said FDI and foreign exchange reserves had reached record levels and the country's macro economic fundamentals were very strong, creating a platform for sustained high growth.
3. Prices of pulses were under control after the government took proactive steps, Mukherjee said, emphasising that the government's focus had been on "holistic development" of the farm sector.