Details

Category: National Parties
Last Updated:

Thursday, 22 January 2015 20:53
BSP releases list of 28 candidates for Lok Sabha polls,Nitish Kumar,Lok Sabha,Bahujan Samaj Party,BSP,Mayawati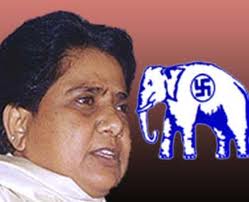 PATNA: Bahujan Samaj Party (BSP) will filed its candidates in all the 40 Lok Sabha constituencies in Bihar, said UP MLC and party's in charge for Bihar affairs Tilak Chandra Ahirwar while releasing a list of 28 party candidates here on Friday.
Dismissing as bunkum the pre-poll surveys which indicated fall in the BSP numbers in the Lok Sabha, Ahirwar said the party would fare better in 2014 election. He said Bihar has around 16% SC voters and, therefore, the party has good prospects in the state. He directed the candidates undertake door-to-door campaign to mobilize support for the party.
Ahirwar criticised Bihar CM Nitish Kumar for, what he said, "pseudo-development" of the state and alleged the state government's efforts to empower Mahadalits failed. Criticizing the state government's idea of distributing radio sets among the Mahadalits, he said they were given radio sets in place of land plots.
The candidates announced by Ahirwar on Friday include Dadan Yadav for Buxar, Krishna Kumar Bind for Valmikinagar, Nagendra Sahni for Purvi Champaran, Mahesh Kumar for Sitamarhi, Chandradeep Ram for Gopalganj, Noshaba Khan for Bhagalpur, Pankaj Kumar for Sasaram (SC), Sanjay Kevat for Karakat, Ramchandra Ram for Samastipur (SC), Dhaneshwar Ram for Hajipur (SC), Shiv Kumar Kant for Gaya (SC), Sakal Dev Das for Jamui (SC), Ram Padartha Yadav for Begusarai, Sudhir Kumar Singh for Sheohar, Shankar Mahto for Vaishali, Dharmendra Sahni for Ujiyarpur, Ravindra Kumar Chandravanshi for Jehanabad, Ramesh Chandra Badal for Ara, Ganesh Ram for Siwan, Raj Kumar Ram for Patliputra, Sanjay Kumar for Nalanda, Balmukund Chauhan for Saran, Mati Lal Sah for Jhanjharpur, Aman Kumar Samajsevi for Supaul, Shivendra Bhagat for Katihar, Suhail Anwar Ansari for Nawada, Guljhar alias Bunty Yadav for Madhepura and Shamim Akhtar for Paschimi Champaran.
Source: Times of India