Political Parties
Gadkari, Munde among 10 BJP candidates to contest LS polls,2014 Lok Sabha Elections,BJP,Bjp Candidates,BJP President, Devendra Fadnavis,Lok Sabha Candidates,Mumbai News,Nitin Gadkari
Details

Parent Category: Indian Politics
Last Updated on

Thursday, 22 January 2015 20:53
Gadkari, Munde among 10 BJP candidates to contest LS polls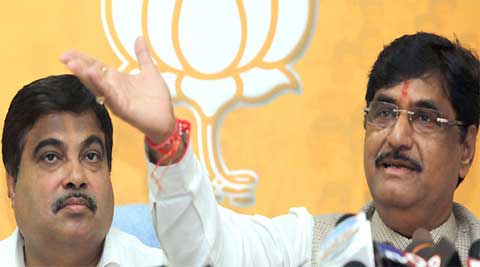 The BJP Tuesday recommended the names of 10 candidates for the 2014 Lok Sabha elections. A meeting under the chairmanship of state president Devendra Fadnavis finalised candidates for 10 seats out of the 26 in its quota.

Former BJP president Nitin Gadkari will contest from Nagpur, while Deputy Leader of Opposition in the Lok Sabha Gopinath Munde will contest from Beed.

Fadnavis said: "The 10 names have been forwarded to the central committee, which will formally ratify and release the list."
The decision on the remaining 16 seats, which also includes one for a Swabhinami Shetkari Sanghatana candidate, will be taken in the next meeting.
Of the total 48 Lok Sabha seats in Maharashtra, BJP will contest 26 seats and Shiv Sena 22. The party is likely to give at least one seat each to the new allies SSS and Rashtriya Samaj Paksha.

Apart from Gadkari and Munde, others on the list of 10 are Raosaheb Danve (Jalna), Hansraj Ahir (Chandrapur), Dilipkumar Gandhi (Ahmednagar), Sanjay Dhotre (Akola), A T Nana Patil (Jalgaon), Haribhau Jawale (Raver), Harsihchandra Chavan (Dindori) and Pratap Sonawane (Dhule). Sources in the BJP said a majority of the nine sitting MPs were set to get the ticket again.
Violence can't solve toll issue: Fadnavis

BJP president Devendra Fadnavis Tuesday said toll collection had become a method of extorting money from the people by private contractors as the government had turned a blind eye towards violation of guidelines. "A comprehensive policy is the way forward… and not violence," he said, taking a dig at the MNS that attacked toll booths across Maharashtra on Monday. Fadnavis refrained from demanding any action against MNS chief Raj Thackeray and said: "It is for the government to decide what needs to be done. It's not the Opposition's call."
Source: Indian Express, Mumbai, Maharashtra