Sivaganga Parliamentary Constituency 2019, Sivaganga Lok Sabha Constituency Details, Political News Sivaganga, Tamil Nadu Lok Sabha Elections 2019 News Updates, Tamil Nadu Parliamentary Constituency details 2019, Sivaganga MP Issues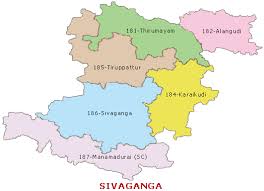 About Sivaganga:
One of the 39 constituencies of Tamil Nadu, Sivaganga Lok Sabha Constituency comprises of six legislative assembly segments. The Sivaganga Lok Sabha Constituency (constituency number 30) consists of 1,092,438 number of electorates in totality, of these 534,518 are males and 557,920 are females as the Election commission of India 2009 data suggests. It came into existence post the 2008 delimitation of parliamentary constituencies and has over 1,090,000 voters.
Assembly Segments:
Names of Assembly Constituencies

Thirumayam

Alangudi

Karaikudi

Tiruppattur

Sivaganga

Manamadurai
About Sivaganga:
Sivaganga, or Sivagangai is the center of administration of the Sivaganga District which covers an area of 4,189 sq km. It is bounded by the districts of Pudukkottai, Ramanathapuram, Virudhunagar, Tiruchirapalli and Madurai.
As per 2011 census data, it has a population of 1,339,101 with 668,672 males and 670,429 females. The district had a population growth of about 16% and has a population density of 316 per sq km. Children constitute about 11% of the population and the sex ratio is 1003 females per 1000 males. The average literacy rate of Sivaganga is 80% with male literacy rate of 88% and female literacy rate of 72%. Tamil is the official language here. It is one of the 250 most backward districts of India and hence the Backward Regions Grant Fund Programme provides economic aid to it. Almost 73% of the workforce is involved in agriculture and small scale industries are also located here. The district has an extensive road network including NH-85, NH-208 and NH-226.
A Look: Sitting MP
| | |
| --- | --- |
| Name of MP | Palaniappan Chidambaram |
| Age | 68 |
| Nature of Membership | Elected |
| Term | 18-May-09 to In office |
| Political Party | Indian National Congress |
| Gender | Male |
| Educational Qualification | Post Graduate |