Tenkasi Parliamentary Constituency 2019, Tenkasi Lok Sabha Constituency Details, Political News Tenkasi, Tamil Nadu Lok Sabha Elections 2019 News Updates, Tamil Nadu Parliamentary Constituency details 2019, Tenkasi MP Issues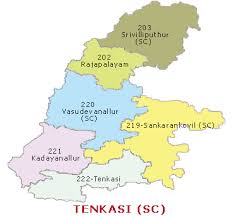 About Tenkasi:
One of the 39 parliamentary constituencies of Tamil Nadu, Tenkasi Lok Sabha Constituency represents the Tirunelveli District and has 1,063,614 voters. 1,063,614 is the total electorate count in the Tenkasi Lok Sabha Constituency (constituency number 37). Out of these 530,196 number of electorates are males and the remaining 533,418 are belong to the female category as the Election commission of India 2009 reports suggest. This constituency came into existence in 1957 and comprises of six legislative assembly segments and is reserved for the SC category.
Assembly Segments:
Names of Assembly Constituencies

Rajapalayam

Srivilliputhur (SC)

Sankarankovil (SC)

Vasudevanallur (SC)

Kadayanallur

Tenkasi
About Tenkasi:
The town of Tenkasi is situated near the Coutallam Waterfalls, at the foothills of the Western Ghats. It has an average elevation of 143 m and is bordered by Kerala on its West. Tamil and English are the official languages here.
As per 2001 census, it has a population of over 63,000 people of which 7,242 are under the age of 6. About 51% of the population is male and the sex ratio is 982 females for every 1000 males. The average literacy rate of the city is 83%. About 15% of the population belongs to the SC category and 0.90% belongs to the ST category. Agriculture, tourism, oil refining, handloom and several other small scale industries are a part of the economic setup of the city. Several State Highways are connected to the city and place it in a large road network. Additionally, the National Highway NH-7 passes through the district connecting to the major cities in and around the city.
A Look: Sitting MP
| | |
| --- | --- |
| Name of MP | P. Lingam |
| Age | 47 |
| Nature of Membership | Elected |
| Term | 18-May-09 to In office |
| Political Party | Communist Party of India |
| Gender | Male |
| Educational Qualification | Graduate |
Performance in the 15thLok Sabha
| | |
| --- | --- |
| Debates participated | 83 |
| Private member bills passed | 0 |
| Questions asked | 332 |
| Attendance | 96% |