Tiruchirappalli Parliamentary Constituency 2019, Tiruchirappalli Lok Sabha Constituency Details, Political News Tiruchirappalli, Tamil Nadu Lok Sabha Elections 2019 News Updates, Tamil Nadu Parliamentary Constituency details 2019, Tiruchirappalli MP Issues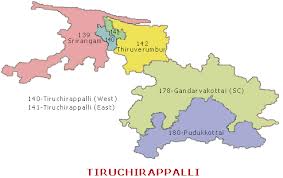 About the Tiruchirappalli:
Tiruchirappalli Lok Sabha Constituency is one of the 39 Parliamentary constituencies of the state of Tamil Nadu, which presently comprises of six Vidhan Sabha segments of which one is reserved for the SC category. The Tiruchirappalli Parliamentary constituency (constituency number 24) has a total of 1,067,193 electorates out of which 533,842 are females and 533,351 are males according to Election Commission of India 2009 reports. It has a total of 1,067,193 electors and came into existence prior to the 1951 elections.
Assembly Segments:
Names of Assembly Constituencies

Srirangam

Tiruchirappalli (West)

Tiruchirappalli (East)

Thiruverumbur

Gandharvakottai (SC)

Pudukkottai
About Tiruchirappalli:
The administrative center of Tiruchirappalli District is situated in the city of Tiruchirappalli. It is located at a distance of about 400 km from Chennai and about 80 km from Combaitore. The city lies at an altitude of 88 meters and covers an area of 147 sq. km. Tamil and English are the official languages here.
As per the census data of 2011, the metro of Tiruchirappalli has a population of 1,021,717 of which 507,180 are males and 514,537 are females. About 90,000 are children below the age of six and the sex ratio is 1015 female per 1000 males. The city has an average literacy rate of 91.20% of male and female literacy rates are 94.70% and 88% respectively. SCs and STs comprise of 10.5% and 0.44% of the population. Hindus have a religious majority. The city is a major retail market and is a leading engineering equipment manufacturer. The National Highways NH-45, NH-45B, NH-67, NH-210 and NH-227 pass through the city.
A Look: Sitting MP
| | |
| --- | --- |
| Name of MP | P. Kumar |
| Age | 42 |
| Nature of Membership | Elected |
| Term | 18-May-09 to In office |
| Political Party | All India Anna Dravida Munnetra Kazhagam |
| Gender | Male |
| Educational Qualification | Graduate |
Performance in the 15thLok Sabha
| | |
| --- | --- |
| Debates participated | 55 |
| Private member bills passed | 0 |
| Questions asked | 557 |
| Attendance | 88% |