Details

Category:

Bihar Political News

Last Updated:

Monday, 23 February 2015 11:33
Bihar News: Nitish Kumar takes oath as Bihar CM
NEW DELHI: JD(U) strongman and former chief minister of Bihar Nitish Kumar took oath as the state's CM for the fourth time on Sunday. This follows the dramatic resignation of rebel JD(U) leader Jitan Ram Manjhi last week before the show of strength in the 243-member Bihar assembly.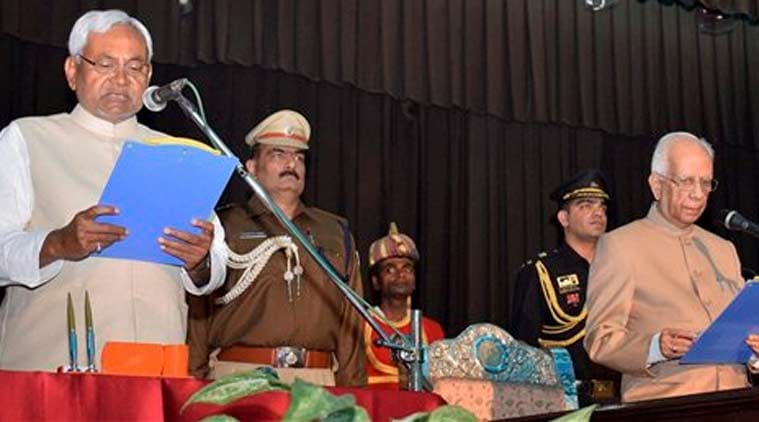 He was administered the oath of office and secrecy at the Raj Bhawan in Patna by governor Keshari Nath Tripathi.
Nitish, who was invited to form a new government by the governor after Jitan Ram Manjhi's resignation ahead of the trust vote on Friday, has been asked to prove his majority in the Bihar assembly by March 16.
Kumar described his decision to quit office last year as "a mistake" on Friday when rebel JD(U) leader and Bihar chief minister Jitan Ram manjhi tendered his resignation.
With Sunday's swearing in, 63-year-old Kumar is back in the chief minister's chair he had quit on May 17, 2014 over JD(U)'s debacle in the general election.
After stepping down, Kumar, despite resistance from JD(U) legislators against his resignation, had his way and handpicked Jitan Ram Manjhi to succeed him on May 20, 2014.
However, within eight months of the decision Kumar was forced to change the plot in the wake of dissent against him by Manjhi along with a section of JD(U) ministers and legislators.
BJP used the dissension to the hilt and extended support to Manjhi. But, the floor test could not be taken as Manjhi tendered his resignation ahead of the vote on Friday last.
With the swearing in, a major crisis for Kumar has ended but some big challenges lie ahead for the socialist leader.
Besides, repairing the "damage" done by Manjhi to "sushasan" (good governance) as Kumar said on Friday, the wily politician has to allay the fears of people that company of RJD leader Lalu Prasad, who has been convicted in a fodder scam case, does not mean return of "jungle raj" as alleged by rival BJP.
This would have serious repercussion for Kumar, as he has to lead his party JD(U) and allies RJD, Congress and CPI to assembly election in the state before November 25 this year.
During his earlier stint as chief minister, Kumar had initiated a series of reforms and stressed on increasing enrolment of students, building roads and bridges and improving healthcare facilities.
BJP, whose relations with Kumar turned bitter after he led his party to severe ties with it on June 16, 2013 following elevation of Narendra Modi, has already coined a slogan "jungle raj II" , warning people of "looming danger of Kumar joining hands with Lalu".