Lok Sabha
Sushma Swaraj Biography Family Husband Address Contact Profession Website, Sushma Swaraj Lok Sabha Member from VIDISHA, Sushma Swaraj , Sushma Swaraj Lok Sabha, Who is Sushma Swaraj , About Sushma Swaraj Lok Sabha Member,Address Mobile Contact Details Sushma Swaraj , Assets Education Criminal Cases Sushma Swaraj , Profession Liabilities Sushma Swaraj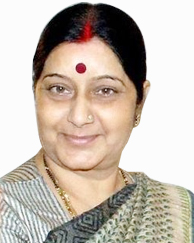 Brief About Sushma Swaraj Lok Sabha Member from VIDISHA and Biography.Here are all details of Sushma Swaraj Address, Mobile, and Contact Details of Sushma Swaraj. Assets Education Criminal Cases Profession and Liabilities of Sushma Swaraj
| | |
| --- | --- |
| Constituency | Vidisha (Madhya Pradesh) |
| Name | Sushma Swaraj (Winner) |
| Party | BJP |
| S/O,D/O,W/O | Sh. Swaraj Kaushal |
| Age | 64 |
| Address | Resident Of C - 7, Civil Lines, Professor'S Colony, Bhopal - 462002, Mp |
| Self Profession | Leader Of Opposition, Lok Sabha |
| Spouse Profession | Senior Advocate, Supreme Court Of India |
| Criminal Cases | 0 |
| Education | Graduate Professional |
| Total Asset | Rs:17,55,16,422 |
| Liablities | Rs:65,00,000 |
| Email | This email address is being protected from spambots. You need JavaScript enabled to view it. |
| Contact | 0755-2661006, 011-23794344 |
| Children | Bansuri Swaraj |
| Spouse | Swaraj Kaushal |
About:
Sushma Swaraj About this sound pronunciation (born 14 February 1952) is an Indian politician, former Supreme Court lawyer and the current Minister of External Affairs of India, in office since 26 May 2014. A leader of Bharatiya Janata Party, Swaraj is the second woman to be India's Minister of External Affairs, after Indira Gandhi. She has been elected seven times as a Member of Parliament and three times as a Member of the Legislative Assembly. At the age of 25 in 1977, she became the youngest cabinet minister of north Indian state of Haryana. She also served as 5th Chief Minister of Delhi for a brief term in 1998.
Early life and education:
---
Sushma Swaraj (née Sushma Sharma) was born at Ambala Cantt, Haryana on 14 February 1952 to Hardev Sharma & Shrimati Laxmi Devi. Her father was a prominent Rashtriya Swayamsevak Sangh member. Her parents hailed from Dharampura area of Lahore, Pakistan. She was educated at Sanatan Dharma College in Ambala Cantonment and earned a bachelor's degree with majors in Sanskrit and Political Science. She studied law at Punjab University, Chandigarh. A state-level competition held by the Language Department of Haryana saw her winning the best Hindi Speaker award for three consecutive years.
Career:
In 1973, Swaraj started practise as an advocate in the Supreme Court of India.
---
Chief Minister of Delhi:
After a tenure in national level politics, in October 1998 she resigned from the Union Cabinet to take over as the first female Chief Minister of Delhi. However, the BJP had lost the Assembly elections because of rising prices and inflation.She resigned from her Assembly seat and returned to national politics.
External Affairs Minister:
Swaraj has been serving as the Indian External Affairs Minister under Prime Minister Narendra Modi since May 2014, responsible for implementing the foreign policy of Narendra Modi. She is only the second woman to hold this position after Indira Gandhi
---

Personal life:
During the times of Emergency, on July 13, 1973, Sushma Swaraj married Swaraj Kaushal, a peer and fellow advocate at the Supreme Court of India. The Emergency movement brought together the couple, who then teamed up for the defense of the socialist leader George Fernandes.

Swaraj Kaushal is now a senior advocate of Supreme Court of India and a criminal lawyer who served as Governor of Mizoram from 1990 to 1993. He was a member of parliament from 1998 to 2004.

The couple have a daughter, Bansuri, who is a graduate from Oxford University and a Barrister at Law from Inner Temple.

Sushma Swaraj's sister Vandana Sharma is an associate professor of political science in a government college for girls in Haryana.

Swaraj's brother Dr. Gulshan Sharma is an Ayurveda doctor based in Ambala.
---

Distinctions and records:
In 1977, she became the youngest ever Cabinet Minister in the country at 25 years of age.

In 1979, she became State President of Janata Party, Haryana State at the young age of 27. Sushma Swaraj was the first female Spokesperson of a national political party in India. She has many firsts to her credit as BJPs first female Chief Minister, Union Cabinet Minister, General Secretary, Spokesperson, Leader of Opposition and Minister of External Affairs. She is the Indian Parliament's first and the only female MP honoured with the Outstanding Parliamentarian Award. She has contested 11 direct elections from four states. She has served as the President of the Hindi Sahitya Sammelan in Haryana for four years.