Lok Sabha
Brief About Mulayam Singh Yadav Biography Family Address Contact Website Professional Career, Mulayam Singh Yadav Lok Sabha Member from AZAMGARH, Mulayam Singh Yadav , Mulayam Singh Yadav Lok Sabha, Who is Mulayam Singh Yadav , About Mulayam Singh Yadav Lok Sabha Member,Address Mobile Contact Details Mulayam Singh Yadav , Assets Education Criminal Cases Mulayam Singh Yadav , Profession Liabilities Mulayam Singh Yadav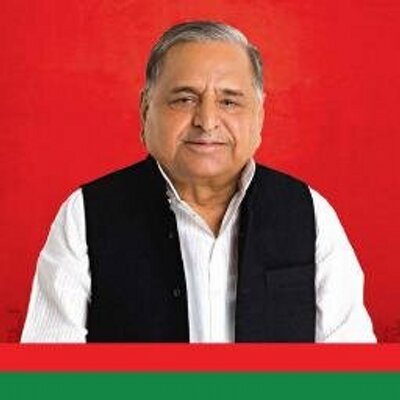 | | |
| --- | --- |
| Constituency | Azamgarh (Uttar Pradesh) |
| Name | Mulayam Singh Yadav (Winner) |
| Party | SP |
| S/O,D/O,W/O | Sughar Singh |
| Age | 74 |
| Address | Village & Post Saifai, District Etawa |
| Self Profession | Agriculture Work & Social Public Interest |
| Spouse Profession | House Wife |
| Criminal Cases | 0 |
| Education | Post Graduate |
| Total Asset | Rs:15,96,71,544 |
| Liablities | Rs:0 |
| Email | |
| Contact | 05688-254017 |
| Relations | include Shivpal Singh Yadav (brother), Dimple Yadav (daughter-in-law), Ram Gopal Yadav (brother) |
| Spouse(s) | (1) Shrimati Malti Devi, (2) Sadhana Gupta |
| Countries Visited | France, Germany, Nepal, Switzerland, Poland, Russia, Singapore, U.K. and U.S.A. |
| Mother's Name | Smt. Murti Devi |
About:
Our Netaji as he is respectfully called by party workers – was born in Etawah on November 22, 1939. Netaji, who was greatly influenced by Shri Ram Manohar Lohia, joined the great socialist leader's movement during the 1950s to fight for farmers rights.
Lohia's 'Do or Die' spirit is an inspiration and a guiding force for the Samajwadi Party in its struggle for social upliftment of the poor, backward and socially weaker sections of society.
He first became an MLA in the UP assembly in 1967 and was jailed during the Emergency in 1975. He formed the Samajwadi Party in October, 1992, based on the socialist principles of India's great leader Shri Ram Manohar Lohia. Netaji was appointed India's Defense Minister in 1996 due to his clear thinking on India's emerging role in international politics and great leadership qualities.
A visionary, Netaji held the post of Chief Minister of Uttar Pradesh three times, and implemented policies and took action to ensure that the poor and backward sections of society lived in harmony with the rest, and people from all religions, castes and social backgrounds contributed towards growth of the state.
Under Netaji's leadership, the Samajwadi Party has become an umbrella for people belonging to various sections of society in villages and towns. Netaji has strived to make the Samajwadi Party a vehicle for the downtrodden and neglected section of society.
---
Personal life:
Mulayam Singh Yadav was born to Murti Devi Yadav and Sughar Singh Yadav on 22 November 1939 in Saifai village, Etawah district, Uttar Pradesh, India.
He has gained several degrees — a B.A., B.T. and an M.A. in political science — from Karm Kshetra Post Graduate College in Etawah, A. K. College in Shikohabad, and B. R. College, Agra University respectively.
Yadav has married twice. His first wife was Malti Devi, whose son is Akhilesh Yadav (born 1973), the current Chief Minister of Uttar Pradesh.Malti Devi died in May 2003.Yadav's second wife is Sadhna Gupta Yadav, with whom he has a son named Prateek Yadav (born 1988). Prateek manages land holdings of the Yadav family.[6] Mulayam's second wife was not well-known until February 2007, when the relationship was admitted in India's Supreme Court
---

Political career:
Yadav first became Chief Minister of Uttar Pradesh in 1989.
Second term as chief minister in 1992
Third term as chief minister
---
As union cabinet minister:
In 1996, Yadav was elected to the eleventh Lok Sabha from Mainpuri constituency.In the United Front coalition government formed that year, his party joined and he was named India's Defence Minister.That government fell in 1998 as India went in for fresh elections, but he returned to the Lok Sabha that year from Sambhal parliamentary constituency. After the fall of Atal Bihari Vajpayee government at the centre in April 1999, he did not support the Congress party in the formation of the government at the Centre. He contested Lok Sabha elections of 1999 from two seats, Sambhal and Kannauj, and won from both. He resigned from Kannauj seat for his son Akhilesh in the by-elections.