Gujarat Election Dates 2017 Schedule Phases Voting Results Announced
Find Gujarat Election Dates 2017 Schedule Phases, Results Dates is 18 Dec Voting Dates to be announced soon for assembly elections 2017, Gujarat Assembly Election Phase Dates, Gujarat Voting Election Result Date 2017, Gujarat Assembly polls dates 2017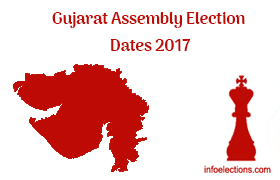 Gujarat Election Dates 2017 have Not yet been announced.
Gujarat Election Counting Dates 2017 - 18 Dec 2017 has been announced which will be held along with Himachal Polls.The Model Code of Conduct will come into force once the poll panel releases the election schedule.
According to latest Opinion Poll by ABP News and Leadtech BJP is leading with almost 60% votes share.
Read: Summary Gujarat Opinion Polls 2017
The 2012 Gujarat legislative assembly elections were held in two phases, the first on 13 December and second on 17 December 2012.Total voting turnout of both phases was 71.32%, highest since 1980. Results were declared on 20 December 2012. The fourteenth legislative assembly election will be held in 2017 to elect members of the 182 constituencies in Gujarat.
---
Gujarat Elections 2017 Dates Schedule Phases
Gujarat Election Voting Dates 2017 : Not yet announced.
Gujarat Election Counting Dates 2017 - 18 December 2017

Also Read: Himachal Pradesh Election Dates 2017 Announced
The tenure of Gujarat assembly ends on 22 January 2018
JD(U) and COngress along with all other parties are questioning why ECI has not announced Election Dates for Gujarat along with Himachal and if this was done to help BJP make it election campaign stronger since as soon as elections are announced, Code of conduct comes in place.
Election will be held in November - December 2017
Detailed Gujarat Election Dates 2017 Notification

S. No. Poll ( All 40 ACs)

Event Dates

1. Issue of Notification

To be Announced

2. Last date for making Nominations

To be Announced

3. Scrutiny of Nominations

To be Announced

4. Last date for withdrawal of candidature

To be Announced

5. Date of Poll

Tentative ( Dec 2017)


6. Counting of Votes

18th December


7. Date before which election process

shall be completed

To be Announced
Tentative date for Electios is December 2017, And Election Would be announced in October 2017
---
Gujarat Elections 2017 Details
Gujarat Phase Constituency Wise Voting Counting Results Dates 2017
Counting Dates for All constituencies has been declared but Voting Dates are yet to be declared. Mostly it will be held in 2 Phases just like it happened in last elections.
Gujarat Assembly Election Result

2012



In 2012, Narendra Modi led, BJP won 116 seats out of total 182 seats and formed the government while INC won 60 seats. BJP has been in power in Gujarat since 1995. After bypolls in June and December 2013, BJP, has won more four assembly seats which were held by INC, increasing the tally of BJP in the assembly to 120, which is 3 more than the assembly election of 2007.
| | |
| --- | --- |
| Party | Seats won |
| Bhartiya Janata Party (BJP) | 116 |
| Indian National Congress (INC) | 60 |
| Gujarat Parivartan Party (GPP) | 2 |
| Nationalist Congress Party (NCP) | 2 |
| Janata Dal (United) (JD(U)) | 1 |
| Independent | 1 |
Click on individual constituencies to know to get compiled Past election Results ,swing Margin, Candidates Details, MLA details , Polling Station, Voter List of each assembly.