Punjab Exit poll 2017 Election Survey Result Who will win Punjab polls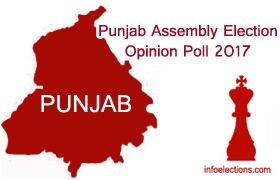 Punjab Election Exit Poll, Punjab Exit poll 2017, Who will win in Punjab polls, Punjab Election Survey Result, Punjab Exit poll, Aaj Tak Exit poll, ABP News CSDS Exit poll, India Today Axis Exit poll, Chanakya Exit poll, Huffpost Cvoter Exit poll, NDTV Exit poll, Axis APM Exit poll, Punjab Party Wise Exit poll, Punjab Constituency Wise Exit poll.
Punjab Exit polls have been banned by ECI from 4th Februrary to 9th March 2017 till all 5 states elections are completed. But Still the The IPac team deployed by Congress which had nearly 1200 volunteers and 500 were positioned at district headquarters gave live updates. IPAC team said We have done better than our initial calculations. We are sweeping Majha, winning Doaba and getting more than half the seats in Malwa,"
As per party's post-poll calculations, Congress is winning 38 of Malwa's 69 seats, 18 in Majha and around 12 in Doaba i.e 68 seats out of 117 constituncies as per IPAC team deployed by Congress.
---
HuffPost CVoter Punjab Exit Poll 2017 Predictions
ABP News Exit poll Punjab Elections 2017 Survey Result 2017 Predictions
India Today Axis Exit poll Punjab Elections 2017 Survey Result 2017 Predictions
Chanakya Exit poll Punjab Elections 2017 Survey Result 2017 Predictions