Karnataka Assembly Election Opinion Poll, Karnataka Opinion poll 2018, KARNATAKA Opinion poll result 2018, Who will win in Karnataka polls, Karnataka Election Survey Result, Karnataka Exit poll, Aaj Tak opinion/Exit poll, ABP News-Nielsen opinion/Exit poll, India Today cicero opinion/Exit poll, Chanakya opinion/Exit poll, India TV Cvoter opinion/Exit poll, NDTV opinion/Exit poll, Axis opinion/Exit poll, Karnataka CM Candidate, Karnataka Election Issues, Karnataka Party Wise opinion poll, Karnataka Constituency Wise opinion poll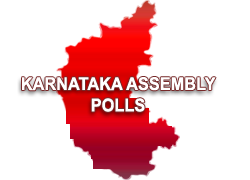 According to Various Opinion Polls to be published by Various Survey agencies and TV Channels Following are the Opinion Polls for Karnataka Assembly Elections 2018.
Karnataka Assembly election shedule 2018 would be announced by mid 2018.The Karnataka assembly election 2013 was held in a single phase on 5 May 2013 for 223 out of total 224 seats.
Party Wise karnataka Election Result 2013
Karnataka Result Status

Status Known For 223 out of 224 Constituencies

Party

Total

Bharatiya Janata Party

40

Indian National Congress

122

Janata Dal (Secular)

40

Others

21
Constituency Wise Karnataka Assembly Election Result 2013. Also you can check the details of every winner candidate by click on the individual winner name.
Click on individual constituencies to know to get compiled Past election Results ,swing Margin, Candidates Details, MLA details , Polling Station, Voter List of each assembly.
Karnataka Result Status

Status Known For 223 out of 224 Constituencies

Party

Won

Leading

Total

Bharatiya Janata Party

40

0

40

Indian National Congress

121

0

122

Janata Dal (Secular)

40

0

40

Others

21

0

21