Assembly Election Opinion/Exit Poll, Survey Result, Who will win in Assembly Elections 2016
Details

Category: Opinion Poll
Last Updated on

Thursday, 22 January 2015 20:53

The Congress has been virtually wiped out and is likely to win 0-2 seats if Lok Sabha elections are held in January 2014 while other parties may get 1-3 seats in the state which sends 25 MPs to the Lok Sabha.

While BJP is expected to get a record 54 per cent of the votes in the Lok Sabha elections, Congress, which just suffered a humiliating defeat, is likely to shrink further in the Lok Sabha elections, getting just 33 per cent of the votes according to Lokniti-IBN National Tracker poll. In the July 2013 tracker, both BJP and Congress were neck-and-neck with 44 per cent votes each.
Rajasthan is likely to remain a two-party state with the Bahujan Samaj Party (BSP), Aam Aadmi Party (AAP) and others projected to get 3, 4 and 6 per cent votes respectively.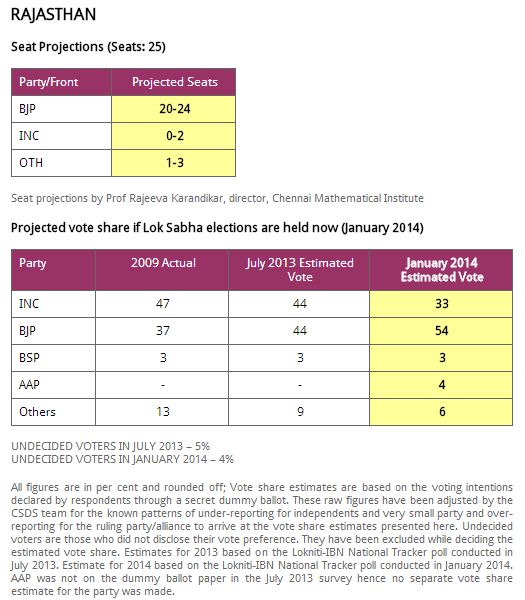 Modi gets credit for Assembly victory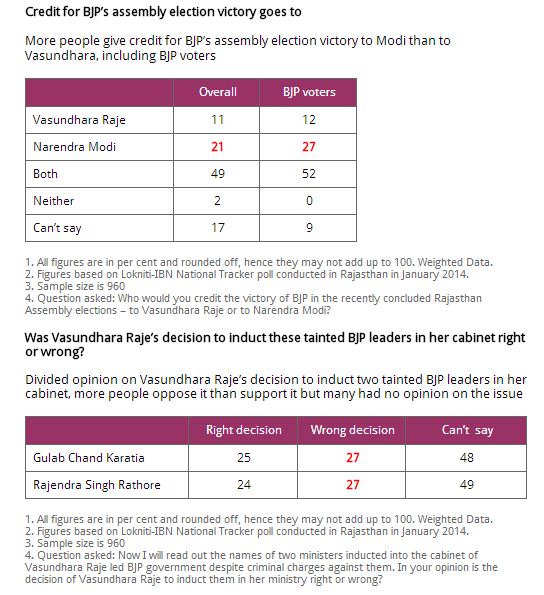 Unlike neighbouring Madhya Pradesh, where more than 80 per cent respondents give credit of the victory in Assembly election to Chief Minister Shivraj Singh Chouhan, in Rajasthan more people credit the Assembly victory to BJP's prime ministerial candidate Narendra Modi.
While 27 per cent respondents give credit to Modi, just 12 per cent give credit to the Chief Minister Vasundhara Raje. Overall, 49 per cent give credit to both and among the BJP voters, it is 52 per cent.
The respondents are divided over Vasundhara Raje's decision to induct two tainted BJP leaders in her newly sworn-in Cabinet. More people oppose it than support it. However, many respondents have no opinion on it.
UPA unpopular
The dissatisfaction with the UPA government's performance has risen in the state and 54 per cent respondents are unhappy with the UPA government at the Centre.
Modi leads PM race
Narendra Modi is leading the PM race with a huge 48 per cent backing in the state. He has widened his lead over Rahul Gandhi, who has got 23 per cent backing. Arvind Kejriwal has got 4 per cent backing for the PM post.
AAP impact
Overall, 61 per cent respondents have heard about the AAP. Among them, only 36 per cent want the AAP to contest from their seat while just 12 per cent are inclined to vote for the AAP.
Source: Election Tracker, CNN-IBN