Lok Sabha Poll 2014: NDA to win 172-180 seats, UPA 149-157, others 147-155, Opinion Poll, Exit Poll, Opinion Poll For Lok sabha Election 2014 predict by CNN-IBN, Lok Sabha Opinion Poll 2014, Lok Sabha Opinion poll result 2014, Lok Sabha assembly election expected win.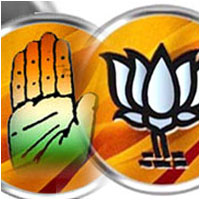 With the next Lok Sabha election scheduled to be held in early 2014, the parties have started to fine tune their strategies for the same. While the two big political formations - the Congress-led United Progressive Alliance (UPA) and the Bharatiya Janata Party-led National Democratic Alliance (NDA) - are trying to come out with a comprehensive election strategy, the CNN-IBN-CSDS-The Hindu Election Tracker survey shows that the 2014 Lok Sabha election is going to throw up a fractured mandate with neither of two coming anywhere close to the half-way mark of 272 in the 545-member Lok Sabha which has two nominated members.
The smaller battle to become the next prime minister of India too is being hotly contested and could have a major bearing on who gets to rule India after the election. With a section of the Congress leadership keen on projecting party Vice President Rahul Gandhi as the prime ministerial candidate, the BJP is banking on Gujarat Chief Minister Narendra Modi, who has been elevated as the party's election campaign committee chief, on delivering the goods and taking it to power after a decade in the opposition.
Modi's elevation has already stirred a controversy with his critics and rivals alleging that his inaction during the 2002 riots in Gujarat show that he is not capable to be the prime minister of a diversified and pluralistic country like India. But the Gujarat Chief Minister's supporters point to the pace of development in the state to claim that only he can ensure that India becomes an economic superpower.
Race for the next Prime Minister:
The Election Tracker survey reveals that Modi with 19 per cent of the votes is ahead in the prime minister's race followed by Rahul Gandhi with 12 per cent, Manmohan Singh (6 per cent), Sonia Gandhi (5 per cent), Mayawati (3 per cent) and BJP patriarch LK Advani (2 per cent). The figures are a major turnaround from 2009 when Modi had the support of just 2 per cent of the voters with Manmohan Singh leading with 18 per cent. Advani (15 per cent), Sonia Gandhi (16 per cent), Rahul (6 per cent) and Mayawati (5 per cent) were all much ahead of the Gujarat Chief Minister.
In the race between Modi and Rahul, the former is ahead with 33 per cent votes compared to 31 per cent for the Congress leader. Modi is more popular than Rahul in North India (37 per cent vs 29 per cent), Central India (41 per cent vs 33 per cent), West India (43 per cent vs 33 per cent) and East India (34 per cent vs 30 per cent).
But Rahul with 37 per cent leads Modi, who has 17 per cent of the votes, in South India. Rahul (45 per cent) is also more popular that Modi (18 per cent) amongst Muslim voters.
Sixty-six per cent Congress supporters want Rahul to be projected as the prime ministerial candidate while 79 per cent BJP supporters want Modi to be projected for the post.
While current Prime Minister Manmohan Singh is considered to be an honest leader by 25 per cent of those surveyed, 14 per cent say he has little control over decisions and nine per cent say that he has allowed corruption to flourish. The satisfaction level with his regime has fallen to 49 per cent in July 2013 from 56 per cent two years ago. There is a sliver lining too with Manmohan still the most liked among top leaders with 63 per cent votes followed by Rahul Gandhi (56 per cent) and Modi (54 per cent).
UPA's performance:
But the UPA government has a lot to worry too as the survey shows that those satisfied with its performance falling from 49 per cent in 2011 to 38 per cent now. The dissatisfaction level has gone up from 31 per cent in 2011 to 40 per cent in 2013. The dissatisfaction level with the UPA is spread across the country - metros (40 per cent), towns (42 per cent) and rural areas (39 per cent).
According to the survey, under the UPA regime 81 per cent say prices have risen, 69 per cent say corruption has increased, 51 per cent say terrorism is up while 45 per cent say that the rich-poor divide has increased.
Vote share and seats:
Coming to the big numbers, the survey shows that the BJP-led NDA is clearly on the upswing with the Congress and its allies taking a big hit. While the Congress is likely to see its vote share drop to 28 per cent in July 2013 from 29 in 2009, it allies are the bigger losers and will see a drop by seven per cent in their vote share from eight per cent in 2009.
On the other hand the BJP will get eight per cent more votes than the party got in 2009. If elections are held in July 2013 then the BJP will get 27 per cent votes against just 19 per cent that the party bagged in 2009. But its allies are not on an easy wicket and will see a three percentage drop to just two per cent in 2013. The Bahujan Samaj Party (BSP) stays at six per cent while the Samajwadi Party (SP) will gain one per cent to climb to four in July 2013 with the Left Front coming down to six from eight per cent votes in 2009.
So the UPA is likely to get 29 per cent of votes in July 2013 compared to 36 in 2009 while the NDA jumps to 29 from 24 per cent in 2009. The other parties gain two per cent and will get 42 per cent of the votes now.
Based on the vote share, the seat projection does not present a very rosy picture for the UPA. If the Lok Sabha election is held in July 2013, then the UPA will win 149-157 seats, the NDA 172-180, BSP 15-19, the Left Front 22-28 and the Samajwadi Party 17-21. The other smaller parties, who could prove to be very crucial in the next government formation, could end up with a huge bloc of 147-155 seats.
In the UPA, the Congress will bag 131-139 seats while its allies will only win just 15-21 seats. It is almost a similar situation in the NDA though the BJP is expected to do much better than the Congress. The BJP may end up with 156-164 seats and its partners could bring another 13-19 MPs.
Regional parties who will in all probability play a crucial role in the next government's formation are likely to come up with a huge contingent of MPs. The Trinamool Congress will win 23-27 seats, All India Anna Dravida Munnetra Kazhagam (AIADMK) 16-20, Nitish Kumar's Janata Dal (United) 15-19, Biju Janata Dal (BJD) 12-16, YSR Congress 11-15, Rashtriya Janata Dal 8-12, Telugu Desam Party 6-10 and the Telangana Rashtra Samithi 5-9 seats.
The Congress is down or barely holding on to categories among whom it had gained and done well in 2009 and gained further in 2011 while the BJP's recovery among its traditional voters among whom it had lost support in 2009, continues.
Overall, across the country and across all regions, there is a fairly high anti-incumbency against the UPA government with satisfaction with performance of BJP MPs greater than with that of Congress MPs. Another major plus for the BJP is that the party is seen as winning by most people in all regions except for South India.
When people were asked which party was likely to win in the next Lok Sabha elections from your constituency, 21 per cent said BJP and 18 per cent took Congress's name. The gap between the BJP and Congress on this question is widest in Central India.
Overall, Congress is viewed by the people as being slightly better than the BJP on the issue of good leadership, running a coalition government at the Centre and for maintaining religious harmony. The BJP on the other hand is seen as being better than the Congress for providing good governance, curbing corruption, handling economic crises and countering terrorism. On the issue of corruption, a large proportion of the respondents also felt that both parties are incapable of curbing it.
When people were asked what will be the single most important issue for them when they vote in the 2014 Lok Sabha election, 12 per cent gave answers related to development and economy, 11 per cent said price rise and 10 per cent gave responses related to governance. Nine per cent said leadership will be the main issue. Corruption as an issue was mentioned by just 6 per cent of the respondents. But the responses of the people vary from region to region. The main issue in North and West India seems to be price rise whereas in South India it is governance. In Central India it is leadership and in East India it is development.
Across socio-economic categories, development and price rise seem to be the most important voting issues for the people. Among housewives, price rise is the biggest issue at 15 per cent. Among the poor, young voters and Muslims development is a big issue apart from price rise.