Details

Last Updated on

Thursday, 21 April 2016 15:34
West Bengal Caste/Religion Wise population, WestBengal Caste wise demographics, Demographics of Kolkata, West Bengal Religion wise population, West Bengal Population, West Bengal Population and Census, Religion in West Bengal, West Bengal Basic Information, Sikh population in West Bengal, upper caste population in West Bengal
Details about the population of West Bengal based on India Census 2011. West Bengal district wise population, population based on religion in West Bengal. Get complete demographics about West Bengal.
Demographics of West Bengal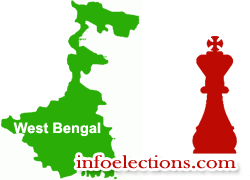 According to the provisional results of the 2011 national census, West Bengal is the fourth most populous state in India with a population of 91,347,736 (7.55% of India's population). Bengali Hindus comprise the majority of the population.
West Bengal is religiously diverse, with region wise cultural and religious specificities. As of 2011, Hinduism is the largest religion followed by 70.53% of the total population while Muslims comprise 27.01% of the total population, being the second-largest community as also the largest minority group.Sikhism, Christianity, Buddhism and other religions make up the remainder.
Religion in West Bengal (2011)
---
Religion in West Bengal (2011)

Hinduism

70.53%

Islam

27.01%

Christianity

0.72%

Buddhism

0.30%

Sikhism

0.07%

Jainism

0.06%

Other Religions

1.03%

Atheist

0.00%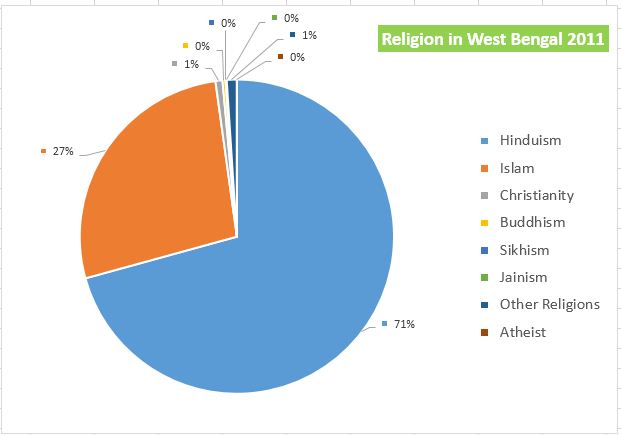 Hindus in West Bengal by district (2011)

S.No.

District

Total population

Hindu population

%

1

North 24 Parganas

1,00,09,781

73,52,769

73.46%

2

Barddhaman

77,17,563

60,08,472

77.85%

3

South 24 Parganas

81,61,961

51,55,545

63.17%

4

Paschim Medinipur

59,13,457

50,56,953

85.52%

5

Hugli

55,19,145

45,74,569

82.89%

6

Purba Medinipur

50,95,875

43,43,972

85.24%

7

Nadia

51,67,600

37,28,482

72.15%

8

Haora

48,50,029

35,35,844

72.90%

9

Kolkata

44,96,694

34,40,290

76.51%

10

Jalpaiguri

38,72,846

31,56,781

81.51%

11

Bankura

35,96,674

30,33,581

84.34%

12

Puruliya

29,30,115

23,73,120

80.99%

13

Murshidabad

71,03,807

23,59,061

33.21%

14

Birbhum

35,02,404

21,81,515

62.29%

15

Koch Bihar

28,19,086

20,87,766

74.06%

16

Maldah

39,88,845

19,14,352

47.99%

17

Uttar Dinajpur

30,07,134

14,82,943

49.31%

18

Darjiling

18,46,823

13,66,681

74.00%

19

Dakshin Dinajpur

16,76,276

12,32,850

73.55%

West Bengal (Total)

9,12,76,115

6,43,85,550

70.54%