Caste wise karnataka voting pattern, Caste politics in Karnataka Assembly Elections 2013, Karnataka still remains extremely caste-conscious, Karnataka latest political news.
BANGALORE: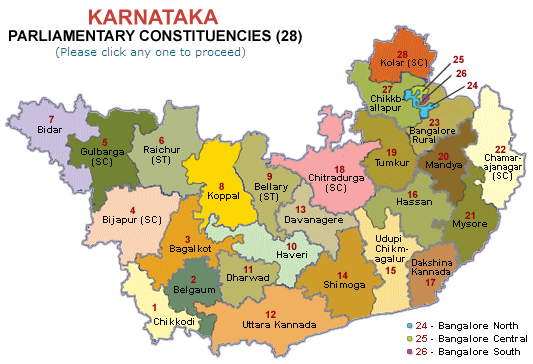 The ToI-Daksh survey examines the importance of caste as an influence on voting behaviour and comes up with some surprising findings about voter attitudes in Karnataka.
The tie is caste. For all its tech-savvy and progressivism, Karnataka still remains extremely caste-conscious when it comes to the ballot box. According to the ToI-Daksh survey of 10,772 voters across the state, 41% of respondents believe caste is very important in deciding who to vote for. The candidate comes a poor second: around 20% of prospective voters cite that the person they are voting for matters most.
The survey found Dharwad, Gadag, Chitradurga and Haveri districts much more caste-conscious than the coastal or Hyderabad-Karnatak regions. Fully, 97% of the survey's respondents from Dharwad pronounce caste as the most important factor when it comes to choosing a candidate.
Nearly 88% of respondents from Gadag, 76% from Chitradurga and 70% from Haveri are caste-conscious. On the other side of the spectrum, Udupi, Kodagu and Dakshina Kannada districts show fewer than 1% of respondents believing caste is important.
When asked about the range of opinions uncovered by the poll, political analyst and pro-vice-chancellor of Jain University Sandeep Shastri explains: "Normally, if the values are 0% or more than 90%, it's a bit surprising. However, there is indeed a higher level of caste consciousness in Dharwad, Gadag and Chitradurga districts, the stronghold of the Lingayats. There is always a strong caste-based mobilization in these districts. As far as Dakshina Kannada, Udupi and Kodagu are concerned... the caste factor in polls is indeed less."

The survey also shows increased caste-based voting among older voters. Half the respondents over the age of 61 say caste matters to them. Unsurprisingly, younger voters are more progressive; 46% of voters below the age of 45 gave minimal importance to caste.
The real shocker is that the highest educated demographic also shows the most caste sensitivity; 47% of respondents with postgraduate education say they are influenced by caste. On the other hand, only 39% of uneducated voters say caste matters to them.
"It is not surprising," says R Indira, a sociologist at Mysore University. "A person's first identity factor is caste. It was believed that the influence of caste would diminish with education. But education does not necessarily mean a change of heart. Now caste polarization is taking place in new ways. Up till the 1980s, people felt embarrassed to openly speak about caste. Now, it is being discussed in the open. The proliferation of caste- and subcaste-based organizations and the increase in the number of caste-based mutts have played a major role in making people aware of caste."
Nearly 43% of rural voters are likely to vote by caste, as opposed to 38% of urban voters. Men seem more caste-conscious, with 43% rating caste highly, as against 37% of women.
In terms of income, the segment with annual incomes between Rs 1 lakh and Rs 10 lakh are the most likely to vote on the basis of caste. Those with incomes between Rs 25,000 and Rs 50,000 are the least likely to take caste into consideration when voting.
Political parties are all too aware of this. Caste calculus underlies seat allocation and candidate selection. The dominant Lingayat and Vokkaliga communities have the lion's share of party tickets. Lingayat strongman BSY has allocated 71 tickets to fellow Lingayats. Close behind is the BJP which has given 60 tickets to Lingayats. The JD(S) plays for the Vokkaliga vote, with 56 tickets allocated to the community. The Congress targets the backwards communities, with 48 tickets given to members of the backward castes. Clearly, caste makes political sense.
source:http://ibnlive.in.com