Candidate selection process picks up speed in Congress BJP,2014 Lok Sabha polls, candidates list, BJP, Congress,Lok sabha 2014 elections,Assembly election,Election 2014,General elections 2014,India,Karnataka elections 2014
Details

Parent Category: Political News
Last Updated:

Thursday, 22 January 2015 20:54
Candidate selection process picks up speed in Congress BJP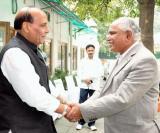 Indications are that both the Congress and the BJP will announce the list in two phases

The Congress and the Bharatiya Janata Party, with meetings being formally held in New Delhi on Thursday, have commenced the process of finalising their candidates for the Lok Sabha seats in Karnataka.

Prior to this meeting, the candidates were shortlisted at least in two phases in Bangalore and the process of further downsizing the list before it is made over to the highest body in the two political parties for a last round of scrutiny and announcement has now commenced.
Indications are that both the Congress and the BJP will announce the list in two phases and that it will be not be gone through before the conclusion of the ongoing Parliament session.
A meeting of the Central Election Committee of the Congress is expected to be held on February 17 after which the final list will be announced.
All the top political leaders of the Congress and the BJP from the State are in Delhi to finalise the list.
While Chief Minister Siddaramaiah and Karnataka Pradesh Congress Committee president G. Parameshwara participated in the discussions of the screening committee chaired by Union Minister Vayalar Ravi, the BJP leaders, comprising, among others, the former Chief Ministers B.S. Yeddyurappa, D.V. Sadananda Gowda and Jagadish Shettar, attended a meeting chaired by BJP president Rajnath Singh. It was the first meeting which Mr. Yeddyurappa attended after rejoining the BJP.
Interestingly, the process of finalising the candidates is more or less the same in both the parties, barring the novel scheme of conducting a primary election (to identify the party candidate) which has been introduced in the Congress thanks to a proposal put forward by AICC vice-president Rahul Gandhi.
The primaries in the Congress are being held for the Dakshina Kannada and the Bangalore North seats and guidelines for this election are expected to be finalised over the weekend.
It is said that the Congress and the BJP may see a number of new entrants to politics making it straight to the electoral scene in the ensuing polls thanks to the new found success of the Aam Aadmi Party in New Delhi.
As such, Congress ticket to Nandan Nilekani to contest from Bangalore South is as good as confirmed given the manner in which he has commenced campaigning.
Mr. Shettar said that the BJP had kept its doors open for new entrants who have a striking popularity to muster the requisite support for winning a Lok Sabha seat. "We are looking forward to emerge as the single largest party in the Lok Sabha," he said.
Source:The Hindu