Presidential Candidate is scheduled to be held in July 2017.
Indian Presidential Elections 2017 Date, Indian Presidential Elections 2017 Results, Indian Presidential Elections 2017 Candidates, Indian Presidential Elections 2017 Votes Live, Indian Presidential Elections 2017 Opinion Poll, Indian Presidential Elections 2017, Indian Presidential Elections 2017 Exit poll, Indian Presidential Elections 2017 BJP Congress, Who will be next Indian President, Presidential Candidate schedule 2017, Presidential elections in India, 2017 elections in India
Presidential election 2017 Date
Congratulations to Ram Nath Kovind Ji on being elected the President of India! Best wishes for a fruitful & inspiring tenure, tweets PM Modi

"Ram Nath Kovind has been elected as the new President of India," says Lok Sabha secretary-general, Anoop Mishra.

Last phase of the counting still underway. Meira Kumar has gotten 34.35% of votes.

NDA candidate Ram Nath Kovind crosses the half-way winning margin in the Presidential Elections 2017. He defeats the opposition's Meira Kumar to become the 14th President of India.

Ram Nath Kovind gets 1,389 votes with value of 479585; Meira Kumar gets 576 with value of 20,4594 after counting in Parliament House, 11 states.

Ram Nath Kovind leads by 1 lakh votes.

First boxes from Parliament House followed by Andhra and Assam will be opened.

Suresh Angadi, Ganesh Singh & Gajendra Shekhawat are counting agents of BJP.

Counting for the Presidential Elections 2017 begins.

India will get its 14th President when counting of votes is held today.

Counting of ballots to begin at 11 am.


Arunachal Pradesh, Chhattisgarh, Assam, Gujarat, Bihar, Haryana, Himachal Pradesh, Jharkhand, Nagaland, Uttarakhand and Puducherry recorded 100 per cent voting.

Ram Nath Kovind is set for an easy win in today's election for the next President of India versus Meira Kumar, with the ruling BJP-led National Democratic Alliance confident that the former Bihar Governor will get about 70 per cent of the votes. Former Lok Sabha Speaker Meira Kumar has been fielded by the opposition, which has pitched the contest as a battle of ideologies. The poll saw nearly 99 per cent voting, the returning officer said, adding it was perhaps the highest ever percentage in a presidential election. Votes will be counted on Thursday.

Voting for presidential election ends, Kovind or Meira? Decision on July, 20th.

The polling will end at 5 pm today. After the voting ends, the ballot boxes from the states would be flown to Delhi and stored in Parliament. The votes would be counted and results would be announced on July 20, five days before President Pranab Mukherjee's Presidential term expires.

PM Narendra Modi was the first to cast his vote at Parliament's room number 62.

Ram Nath Kovind, Meira Kumar in contest, polling underway.

Out of 95 candidates of which 93 were rejected on various grounds, leaving Kovind and Opposition candidate Kumar in the fray. While Kumar has support of 17 opposition parties, Kovind is set to get nearly 70 per cent of the electoral college votes.

776 MPs and 4120 MLAs will decide in a secret ballot vote today when polling begins at 10 am.
The Presidential election will be held on 17 July 2017. the counting of votes will take place on 20 July 2017. This is five days before President Pranab Mukherjee's terms expires.
The election commission on Thursday announced that the election of India's next vice president will take place on August 5. The term of vice president M. Hamid Ansari ends on August 10.
Lalu Yadav, Saira Bano also in race.
Ram Nath Kovind

, the governor of Bihar, is the NDA's candidate for the 13th President of India. His name was announced by BJP chief Amit Shah today after a meeting of the parliamentary party - the BJP's highest decision-making body. Mr Kovind will file nomination for President's position on June 23, Mr Shah said. If elected, he will be the second Dalit President after KR Narayanan to hold the nation's highest office.
Ram Nath Kovind, the Governor of Bihar, was announced as the Bharatiya Janata Party(BJP)-led NDA's candidate for the post of President of India by BJP president Amit Shah on 19 June 2017. Kovind is a leader and a politician from the BJP. Kovind filed his nomination for the election on 23 June 2017.

Meira Kumar, the former Speaker of Lok Sabha, was announced as the Indian National Congress(INC)-lead opposition's candidate for the post of President of India, after a meeting held on the 22 June 2017.
A presidential election will be held in India before 25 July 2017, the day when incumbent President Pranab Mukherjee's term ends. Mukherjee is eligible for re-election as no term limit exists in India.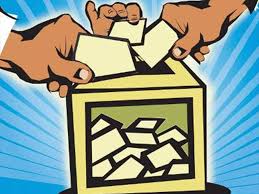 The president is elected by an electoral college consisting of the elected members of both houses of parliament, the elected members of the Legislative assemblies of the 29 states and the elected members of the legislative assemblies of the Union Territories of Delhi and Puducherry.

The nomination of a candidate for election to the office of the President must be subscribed by at least 50 electors as proposers and 50 electors as seconders. The election is held in accordance with the system of proportional representation by means of the Single transferable vote method. The voting takes place by secret ballot. The manner of election of President is provided by Article 55 of the Constitution.

Presidential Election 2017 Statistics

In India, the President is elected by an electoral college comprising elected members of the Lok Sabha, elected members of the Rajya Sabha, and elected members of the State Legislative Assemblies. The total number of voting MPs in the Lok Sabha and the Rajya Sabha is 776, while the total number of voting MLAs is 4,114.
Value of an MLA's vote: Total Population of state /number of state MLAs* 1000

Value of an MPs vote: Value of all MLA votes/ total no of MPs
According to this formula, The vote of each MP is - 708 while the
Vote of an MLA is depends upon population of his state and state assembly strength. For ex,
Vote Value of UP MLA is 208 while that of Sikkim MLA is 7.
Under this system, the candidate fielded by a party or parties will have to secure 50 percent of votes polled (ie: 5,49,441 votes) to win the presidential seat.
Math of Presidential Elections
Total MLAs: 4114
Total MPs: 776
Total MLA Vote Value: 5,49,474
Total MP Vote Value: 5,49,408
Total Vote Value: 10,98,882
---
List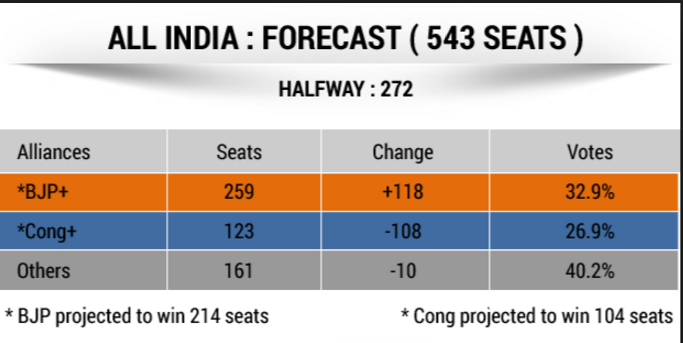 The President of India is elected by an electoral college comprising of:
Elected members of Lok Sabha (543)
Elected members of Rajya Sabha (233)
Elected members of State Legislative Assemblies including Delhi and Puducherry (4120)
To push its luck in the 2017 Presidential contest, the BJP needs to fare well in the ongo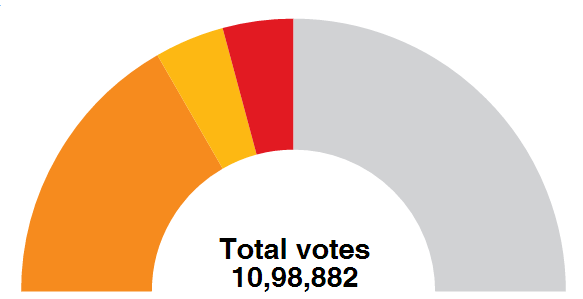 ing elections in five assemblies and early next year's state polls, besides trying to win them to expand its national footprint.The ruling party falls short of 1.85 lakh votes required to win the prestigious battle that involves an electoral college of 10.98 lakh votes.
In the Presidential election, each MLA vote carries a value proportionate to the population of the state as per the 1971 census. With Uttar Pradesh being the most populous state, an MLA from there has the highest value (403), while a legislator from Mizoram and Arunachal Pradesh has the least value.