Political Parties
BJP to release first list of Lok Sabha candidates on Monday,Sangh Parivar,Rajnath Singh,Narendra Modi,Lok Sabha Polls,Lok Sabha Elections
Details

Parent Category: Indian Politics
Last Updated on

Thursday, 22 January 2015 20:53
BJP to release first list of Lok Sabha candidates on Monday,Sangh Parivar,Rajnath Singh,Narendra Modi,Lok Sabha Polls,Lok Sabha Elections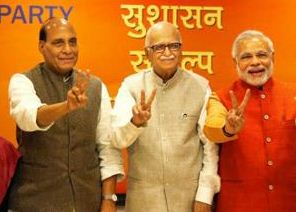 NEW DELHI: With the BJP set to release the first list of candidates for Lok Sabha elections on Monday, party circles were thick with speculation whether veteran leader L K Advaniwill be among the names to be cleared by the party's parliamentary board.
The parliamentary board is expected to announce candidates for seats in smaller states like Himachal Pradesh.
However, the deliberations have acquired an interesting dimension because of the stubborn speculation that an influential section of Sangh Parivar brass would like Advani as well as another BJP veteran Murli Manohar Joshi to bow out of the Lok Sabha arena. The buzz started swirling aggressively last week when BJP inexplicably delayed announcement of its candidates for the biennial Rajya Sabha polls from Gujarat and Chhattisgarh.
It thawed only after Advani made plain his wish to contest Lok Sabha polls from his Gandhinagar seat, as well as after BJP chief Rajnath Singh said the party would abide by the stalwart's preference.
Party circles were looking forward to the list of names on Monday to see whether the leadership is keen to put a lid on the controversy which is rooted in the not-so-secret wish of an influential section in the Parivar to take out of the Lok Sabha ring BJP seniors who are above 75 years. "We have not been able to push this aggressively enough because of our Parivar sanskar and I don't know whether we will be able to overcome this diffidence this time around," a senior party source said.
The talk has gained credence also because of Advani playing a determined dissident after Gujarat CM Narendra Modi was placed ahead of him in the hierarchy. He protested Modi's appointment as chief of the party's campaign committee by quitting all his posts. He was also opposed to the Gujarat CM being named the party's PM candidate.
Advani has since come around. At the just-held national council meeting, he not just blessed Modi but even played the strategy planner for the PM pick.
Source: Times of India