Karnataka assembly poll 2013 Voting date declared : Voting on May 5, counting on May 8,Election Commission announced date of single-phase poll in Karnataka ,Karnataka Assembly Election 2013 Election Schedule, Schedule For General election Of legislative Assembly Of Karnataka.
NEW DELHI: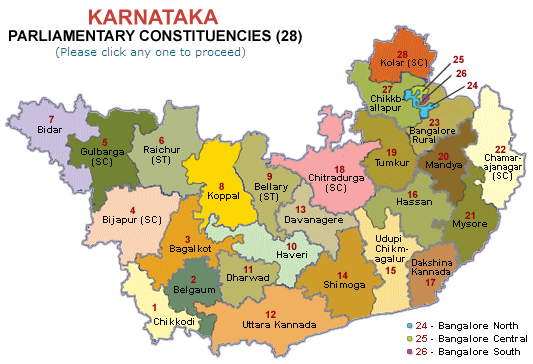 Schedule for the General Elections to the Legislative Assembly of
Karnataka
Election Date 05/May/2013
Counting 08/May/2013
The term of the Legislative Assembly of Karnataka will expire on
03.6.2013. By virtue of its powers, duties and functions under Article 324 read with
Article 172
Assembly Constituencies:
The total number of Assembly Constituencies in the State of Karnataka
and the seats reserved for the Scheduled Castes and the Scheduled Tribes, as
determined by the Delimitation of Parliamentary and Assembly Constituencies Order,
2008, are as under:
Total No. of  A. C.s Reserved for SCs Reserved for STs
224 36 15
Election Commission of India on Wednesday announced a single-phase poll in Karnataka to be held on May 5. Counting will take place on May 8. The term of the Karnataka assembly ends on June 3.
Announcing the dates, Chief Election Commissioner VS Sampath said that Karnataka will go for a single-phase assembly election May 5.
CEC Sampath said the counting of votes will take place May 8. Over 4.18 crore voters eligible to vote for 224-member assembly.

"Election officials have already held consultations with state authorities and met various political parties in the state during their visit to Karnataka," the CEC said.
The Congress goes into the polls with an edge, having finished way ahead of BJP in the recently concluded urban local body elections in the state. While the BJP's tally shrank to 907 seats, Congress bounced back by winning 1,906 seats. Karnataka is the first big state to go to polls after the elevation of Rahul Gandhi as the Congress vice-president. The last assembly poll exercise in February was confined to the three small north-eastern states of Nagaland, Meghalaya and Tripura.
The Congress will count on a victory in Karnataka to enthuse party workers ahead of the next major round of assembly polls in Delhi, Madhya Pradesh and Rajasthan, due later this year.
On the other hand, the state's ruling party, the BJP, seems to be in disarray ever since former CM and Lingayat strongman B S Yeddyurappa, who was asked to step down in 2011 in the wake of corruption charges, parted ways and formed his own party. There has been a steady erosion in the BJP's votebase, as was evident from the drubbing it got in the latest urban body elections.