LOk Sabha Poll Opinion Poll :If India voted today: TMC to win 23-27 in WB; JD(U) 15-19, BJP 8-12 in Bihar,Opinion Poll Predict by CNN-IBN , Lok Sabha election opinion exit poll, Lok Sabha ELECTION SURVEY RESULT , who will win in Lok Sabha polls 2014, Lok
Details

Parent Category: Political News
Last Updated on

Thursday, 22 January 2015 20:46
Lok Sabha Poll Opinion Poll :If India voted today: TMC to win 23-27 in WB; JD(U) 15-19, BJP 8-12 in Bihar,

Opinion Poll Predict by CNN-IBN

,

Lok Sabha election opinion exit poll, Lok Sabha ELECTION SURVEY RESULT ,  who will win in Lok Sabha polls 2014, Lok Sabha Opinion Poll 2014, Lok Sabha Opinion poll result 2014, Lok Sabha assembly election expected win.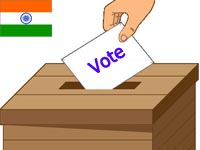 As India gets ready for the 2014 Lok Sabha elections, the two key states of West Bengal and Bihar are going to prove very crucial in ensuring who forms the next government at the Centre. Both states are ruled by strong regional parties led by charismatic leaders who are yet to clearly spell out their plans for the next Lok Sabha elections.
According to a CSDS-CNN-IBN survey, the Mamata Banerjee-led Trinamool Congress (TMC) in West Bengal has consolidated its position since the last Lok Sabha elections in 2009 while the situation is not so clear in Bihar where the Janata Dal (United) snapped its ties with the Bharatiya Janata Party (BJP) following the elevation of Gujarat Chief Minister Narendra Modi as election campaign committee chief.
The TMC is not only going retain its dominant position in West Bengal but will leave its rivals way behind if elections are held in July 2013. The survey shows the TMC winning 23-27 seats compared to just 19 that the party had in 2009 even though its vote share has increased by just one percentage point to 32 from 31 the last time.
West Bengal and Bihar are going to prove very crucial in ensuring who forms the next government at the Centre in 2014.
Also Read..
Lok Sabha Poll 2014: NDA to win 172-180 seats, UPA 149-157, others 147-155..
Lok Sabha Poll 2014:Regional parties the key as UPA, NDA may fall short of majority in LS polls
Mamata's arch-rivals the Left Front has slipped back further and most probably will end with just 7-11 seats from the 15 that it has in the current Lok Sabha while the Congress is likely to bag 5-9 seats and BJP 0-2.
While most people prefer the present TMC government (39 per cent) to previous Left Front government (29 per cent), particularly in rural areas; but in urban areas, Buddhadeb Bhattacharjee's government favoured more than Mamata Banerjee's.
The TMC government is also being blamed by more people for the chit fund scam with most people also saying that its fallout has been handled poorly by the Mamata Banerjee government. While Mamata rode to power in West Bengal ending the 34-year long rule of the Left Front using the slogan of "parivartan" (change), half of those surveyed say they are yet to see any major change.
While West Bengal essentially remains a two horse race, the picture in Bihar is much more complicated with three-cornered race in most of the seats after the JD(U) parted ways from the BJP. Lalu Prasad's Rashtriya Janata Dal (RJD) is trying hard to regain some lost ground and the survey reveals that the former Bihar chief minister seems to have succeeded to making some inroads.
For Bihar Chief Nitish Kumar the fight has only got tougher and his party may end up with 15-19 seats in the next Lok Sabha, which will lower than its current tally of 20 MPs. Even though the JD(U) has managed to increase it vote share to 25 per cent from 24 in the last Lok Sabha election, BJP's emergence as a strong challenger seems to have hit the JD(U) in some pockets of the state.
The satisfaction level with his government has plunged from an unprecedented high of 90 per cent to 69 while the dissatisfaction is up from 9 per cent to 25.
But the BJP too is not sitting very pretty although the party's vote share has seen a huge jump to 22 per cent from 14. While the eight per cent increase in vote share should have ensured more seats to the BJP, what has stopped its march is an equally impressive show by the RJD which has seen its share rising to 24 per cent from 19 in 2009 Lok Sabha elections.
Both the BJP and RJD are projected to win 8-12 seats each by the CSDS-CNN-IBN survey with the Congress, which has hinted that it is eyeing Nitish Kumar's support, a distant fourth with 0-4 seats, Ram Vilas Paswan's Lok Janshakti Party and others likely to bag 0-2 seats.
Even as the survey shows that Nitish Kumar's strategy to dump and BJP and go alone has not paid rich dividends, there is still some good news for him as the survey also shows that the Bihar Chief Minister remains the most popular non-Congress, non-BJP choice for the Prime Minister of India with 12 per cent of the respondents reposing their faith in him. Nitish is followed by Mayawati (9 per cent), Mamata Banerjee and Samajwadi Party supreme Mulayam Singh Yadav (8 per cent), NCP chief Sharad Pawar and Odisha Chief Minister Naveen Patnaik (4 per cent) and J Jayalalithaa (3 per cent).
WEST BENGAL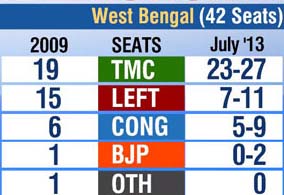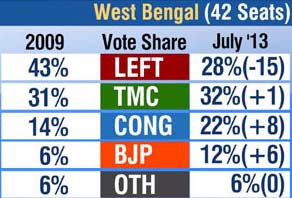 UNDECIDED VOTERS IN WEST BENGAL - 15%

Parties/Front

2009 Actual

July 2013 Estimated Vote (%)

Change since 2009

Cong

14

22

+8

BJP

6

12

+6

TMC

31

32

+1

Left

43

28

-15

Others

6

6

0
| | | |
| --- | --- | --- |
| Parties | Estimated Vote (%) | Seat projection |
| Cong | 22 | 5-9 |
| BJP | 12 | 0-2 |
| TMC | 32 | 23-27 |
| Left | 28 | 7-11 |
| Others | 6 | - |
Most people prefer present TMC govt to previous Left Front govt, particularly in rural areas; however in urban areas, Buddhadeb Bhattacharjee's govt favoured more than Mamata Banerjee's.

Trinamool or Left: whose government is better?

Overall

Rural Bengal

Urban Bengal

Muslims

Present Trinamool govt. better

38

39

37

36

Previous Left govt. better

32

29

39

37

Both equally good

5

5

5

2

Both equally bad

13

15

9

15

Can't say/No opinion

12

13

10

10
7 out of 10 people have heard about the Chit fund scam

Chit fund scam

 

Heard about it

75

Not heard about it

25
Among those who have heard about the Chit fund scam, more people blame the Trinamool Congress than the CPM. Urban Middle and Lower Class blame Trinamool the most for the scam.

Trinamool or CPM: Who is to blame for the Chit fund scam?

Overall

Urban Middle Class

Urban Lower Class

Trinamool Congress to blame

29

38

36

CPM to blame

20

27

21

Both

39

28

23

Neither

11

7

18

Others

1

0

2
Among those who have heard of the Chit fund scam, most say its fallout has been handled poorly by the Trinamool government.

Trinamool Govt.'s handling of the Chit fund scam

Overall

Well handled

21

Poorly handled

44

Can't say/No opinion

35
More than half the people yet to make up their mind about Mamata's decision to leave UPA; Mamata seen as arrogant by most.

Statements on Mamata Banerjee and Trinamool Congress

Fully agree

Somewhat agree

Somewhat disagree

Somewhat disagree

No opinion

Trinamool Congress's decision to withdraw from the Cong-led UPA govt. at the Centre was correct.

16

10

8

15

51

Mamata Banerjee is arrogant and intolerant of criticism.

27

16

8

10

39

Mamata Banerjee government has mishandled the 'Gorkhaland' issue

19

14

7

10

50

Mamata Banerjee has succeeded in bringing real Partivartan in West Bengal over the last two years.

20

22

8

23

27
Maoist influence declining in West Bengal?

In the last one year Maoists in my area have become…

Overall

Rural Bengal

More powerful

24

16

Less powerful

38

41

No difference

11

13

No presence of Maoists in my area

5

6

Don't know/Can't say

22

24

Note:
1. All figures are in percentage and rounded off, hence they may not add up to 100. Weighted Data.
2. Sample size is 1397.
3. Question asked: In the last one year, have you noticed any change in the activities of the Maoists in your area? Have they become more powerful, less powerful or do you notice no difference?
BIHAR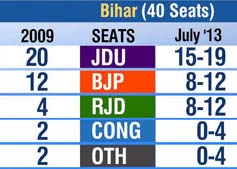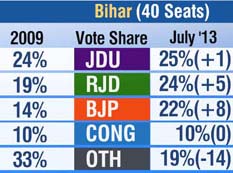 UNDECIDED VOTERS IN BIHAR - 3%

Parties

2009 Actual

July 2013 Estimated Vote

Change since 2009

Cong

10

10

0

BJP

14

22

+8

JDU

24

25

+1

RJD

19

24

+5

LJP

7

3

-4

Others

26

16

-10
| | | |
| --- | --- | --- |
| Parties | Estimated Vote (%) | Seat projection |
| Cong | 10 | 0-4 |
| BJP | 22 | 8-12 |
| JDU | 25 | 15-19 |
| RJD | 24 | 8-12 |
| LJP | 3 | 0-2 |
| Others | 16 | 0-2 |
Nitish is still the most popular leader in Bihar but his popularity has dropped since the last election.

Chief Minister preference after the next Assembly elections in Bihar

2010

2013

Nitish Kumar

53

44

Lalu Prasad Yadav

26

25

Sushil Modi

1

7

Rabri Devi

2

2

Ramvilas Paswan

4

2

Others

10

7

Can't say/No choice

4

13
Most people, including JDU's core voters, are of the opinion that Nitish should have accepted Modi for the sake of the JDU-BJP alliance; Muslims however feel differently.

Opinion on the JDU-BJP alliance break up over Narendra Modi

Overall

Traditional JDU supporters

Kurmi, Koeri

Muslims

Nitish should have accepted Modi as a leader as it was important to maintain the JDU-BJP alliance

38

38

41

24

BJP should not have promoted Modi in order to save the alliance with JDU

20

26

27

35

Can't say

42

36

32

42
Most people blame JDU for the break of the JDU-BJP alliance; however JDU's core voters are more balanced.

JDU or BJP: Who is to more responsible for the break up?

Overall

Traditional JDU supporters

Kurmi, Koeri

Muslims

JDU more responsible

33

24

30

20

BJP more responsible

19

36

25

30

Both JDU and BJP are equally responsible

18

20

17

22

Neither JDU nor BJP are responsible

4

2

3

7

Can't say

26

18

26

21
JDU should fight the next Lok Sabha elections alone, say most

What should JDU's Lok Sabha strategy be?

Overall

Traditional JDU supporters

Traditional Congress supporters

Kurmi, Koeri

Muslims

JDU should fight Lok Sabha elections alone

40

49

44

47

39

JDU should tie-up with another party

18

16

17

16

24

Can't say

42

34

38

37

37
Among the few who want JDU to ally with another party, most want it to tie-up with Congress.

Who should the JDU tie up with for the next Lok Sabha polls?

Overall

Traditional JDU supporters

Traditional Congress supporters

Kurmi, Koeri

Muslims

JDU should tie-up with Congress

25

40

54

24

32

JDU should tie-up with BJP

12

10

4

10

6

JDU should tie-up with RJD

8

0

0

0

9

JDU should tie-up with Others

5

10

3

4

4

Can't say/No opinion

50

40

39

62

49
Governance report card of Nitish's govt is quite negative, except on the Development and employment fronts.

In the last two and a half years of JDU-led rule..

Has increased

Has remained same

Has decreased

Corruption

57

18

19

Employment

37

37

18

Crime/Murder/Kidnapping etc.

40

24

31

Pace of development

52

28

11

Bureaucratic dominance (Afsarshahi)

65

14

7
INDIA'S ECONOMIC SITUATION
People's satisfaction with their personal financial condition has gone down

Satisfaction with personal financial condition

2004

2009

2011

2013

Satisfied

63

62

64

59

Dissatisfied

33

29

32

34

Can't say/No opinion

4

9

4

7
People of all classes less satisfied with their personal financial condition compared to 2011

Economic Class

Satisfied with personal financial condition 2011

Satisfied with personal financial condition 2013

Upper

75

72

Middle

72

65

Lower

63

61

Poor

49

47
Economic condition of the country mostly rated 'so-so' or 'bad'

Perception of country's economic situation

All India

Very good

4

Good

17

So-so

32

Bad

20

Very bad

11

Can't say

16
West India and Central India more positive about the economy than other parts

Perception of country's economic situation

Good

So-so

Bad

Can't say

All India

21

32

31

16

By region

South India

17

22

32

30

North India

21

36

29

15

Central India

29

37

23

12

West India

31

36

26

7

East India

17

33

38

12

By Class

Upper

29

32

34

6

Middle

22

34

32

12

Lower

20

33

29

18

Poor

18

30

31

22

By locality

Metros

21

39

30

10

Towns/Cities

21

31

37

11

Villages

21

32

30

17
Perception of economic situation of the country is much better among those satisfied with their personal financial condition

Perception of country's economic situation

All India

Those satisfied with personal financial condition

Beneficiaries of NREGA

Good

21

28

24

So-so

32

37

30

Bad

31

23

27

Can't say

16

12

19
BJP viewed as being better for handling economic crises than Congress, particularly among the economically better off and urban respondents

Which party is better for handling economic crises?

All India

Non-Cong, non-BJP supporters

Middle and Upper class

Urban voters

Cong is better

23

17

24

23

BJP is better

26

21

30

30

Both

10

9

11

10

Neither

15

22

16

17

Can't say/No opinion

26

31

19

21
Across classes there is unanimity that the gap between the rich and poor has increased under the UPA

During the last four years of UPA-2's rule, the gap between rich and poor has...

All India

Poor

Lower Class

Middle Class

Upper Class

Increased

45

45

44

45

48

Remained same

32

29

33

34

34

Decreased

9

7

9

11

11

Can't say/No opinion

14

18

14

10

6
Mixed opinion about employment opportunities under UPA; Urban India more positive than Rural India

During the last four years of UPA-2's rule, employment opportunities have...

All India

Youth (18-35 years)

36-45 years

Urban voters

Rural voters

Increased

29

29

31

34

27

Remained same

29

31

30

28

29

Decreased

29

30

29

29

29

Can't say/No opinion

13

10

11

9

15
Perception about Price rise much stronger compared to 2011

During UPA-2's rule, prices of essential commodities have…

2011

2013

Increased

51

81

Remained same

24

9

Decreased

9

3

Can't say/No opinion

16

7
Perception about price rise is strongest among urban lower class and rural upper class

During UPA-2's rule, prices of essential commodities have…

All India

Urban Lower Class

Rural Upper Class

Increased

81

87

85

Remained same

9

6

9

Decreased

3

3

3

Can't say/No opinion

7

4

3
Central govt. much more to blame for Price rise than State government

Who is more responsible for Price rise?

State govt. more to blame

Central govt. more to blame

ALL INDIA

12

34

Andhra Pradesh

18

14

Assam

9

9

Bihar

10

59

Chhattisgarh

19

20

Delhi

12

22

Gujarat

13

25

Haryana

3

29

Jharkhand

7

38

Karnataka

9

46

Kerala

10

25

Madhya Pradesh

16

41

Maharashtra

13

22

Orissa

18

52

Punjab

10

31

Rajasthan

6

24

Tamil Nadu

14

33

Uttar Pradesh

9

42

West Bengal

13

34
source:ibnlive.in.com/politics/politics_news/