Disrict Wise MLA List :::::
List Of ::::::::::::::::::::::::::

PCs
MLA
Result

Prominent Leaders ::::::::
| | | |
| --- | --- | --- |
| | | infoelection.com |
| | | | |
| --- | --- | --- | --- |
| AAP announces list of 44 shortlisted candidates for 12 seats, Kejriwal announce Candidate List for Delhi assembly election, Candidate list , AAP candidate list , latest AAP party Candidate list, latest news today, latest delhi news, delhi election update. | | | |
Written by leadtech
Saturday, 25 May 2013 11:09
AAP announces list of 44 shortlisted candidates for 12 seats.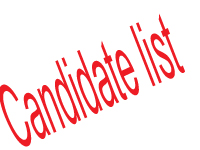 Gearing up for its electoral debut in the upcoming Delhi Assembly polls, Aam Aadmi Party (AAP) on Saturday announced the names of 44 shortlisted candidates for 12 constituencies. "The final 12 would be selected after recommendations of grassroot level workers and selection committee after proper consultation and debate among them," AAP Convener Arvind Kejriwal told reporters while announcing the list of shortlisted candidates.
He said the candidates were selected by 'candidate screening committee' co-chaired by Manish Sisodia and Sanjay Singh. Prominent among the shortlisted candidates are media personality and AAP member Shazia Ilmi from RK Puram and Sisodia himself from Patparganj.
Asked about the funds collected by the party to contest the elections, he said "we have received around Rs two crore in last two months through internet banking and anybody can visit our site to see the list of donors. "We don't accept any amount from those who want to remain anonymous," he said.
Prominent among the shortlisted candidates are media personality Shazia Ilmi and AAP member Manish Sisodia.
A proper selection procedure like screening, interviewing and verifying about their criminal antecedents and popularity among locals was followed for the aspirants. "Our focus was to ensure that candidates do not have any criminal case against them, they are honest, having clean image in the locality and no two persons belonging from same family. Similarly, we have tried to discourage nepotism and dynastic politics," Kejriwal said.
In last assembly election, Congress and BJP had fielded 19 candidates with criminal cases like kidnapping and murder while BSP had 15 such candidates, he said, adding "our attempt is to bring people with clean image and prevent persons with criminal antecedents from entering politics".
"We had received a total of 106 applications from advocates, journalists, engineers, former defence officials, resident welfare associations office bearers, social activists and supporters from other political parties like Congress and BJP," Kejriwal said. He claimed one of the candidates was associated with Congress for 25 years while another was active with BJP at divisional level.
list of constituencies for which the the candidates have been shorlisted

Bijwasan
Matia Mahal



1. Col Devindra Sehrawat (Retd)





2. Gajraj Yadav





3. Satya Dev





1. Shakeel Ahmed Abbasi





2. Shyam Kumar





3. Sohail Solahuddin

Greater Kailash

Matiala




1. Dharamveer Panwar





2. Maushree Guha





3. Sarabjeet Singh





4. Saurabh Bharadwaj





5. Shalini Gupta




1. Gulab Singh





2. Pradeep Bansal





3. Shashikant

Kondli

Najafgarh

1. Arun Arya





2. Jaswant Singh





3. Manoj





4. Om Prakash Balmiki





1. Dr Satyapal Bharadwaj





2. Mukesh Kumar Dagar





3. Naresh





4. Sukh Chand Kadiyan

Malviya Nagar

Patparganj

1. Manish Dave





2. Mohd Samiyuddin





3. Somnath Bharti

1. Bachchan Singh Dhanola





2. Kishore Suman





3. Manish Sisodia





4. Sunita Chauhan

RK Puram

Sadar Bazar

1. Ajay Kumar Gaud





2. Manas Kumar Ranjan





3. Shazia Ilmi

1. Himanshu Kalia





2. Somdutt





3. Virendra Kumar

Seemapuri

Trilokpuri

1. Bheem Singh





2. Harinder Singh Mahaur





3. Santosh Koli





4. Surender Kumar

1. Bijendra Kumar





2. Kishori Lal Dhanak





3. Manoj Kumar Gehlot





4. Raju Dhingan





5. Rohit Kumar Mehraolia
Last Updated on Wednesday, 09 October 2013 15:24
Who is the Probable CM candidate for Delhi?
Who is the Probable CM candidate for Delhi?